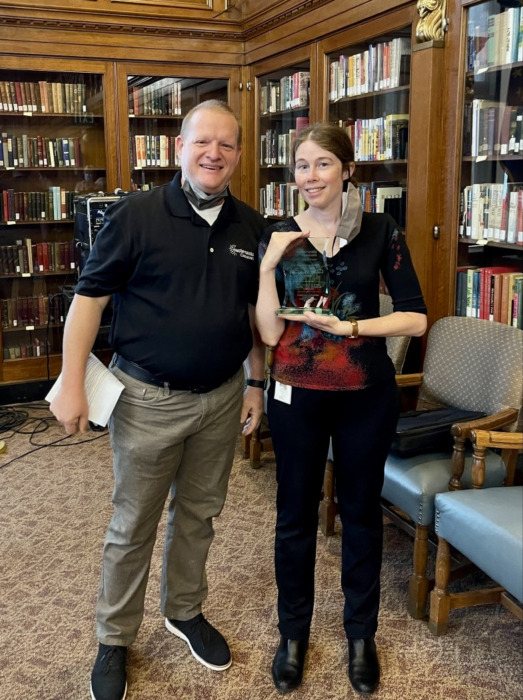 In 2017, we created the annual Assistive Technology (AT) Champion award, which recognizes an individual or business for exceptional contributions to the field of Assistive Technology in Indiana. Recipients can be innovators, thought-leaders, trailblazers, mentors, or cutting-edge technologists that positively impact the field of assistive technology.
We are excited to announce that our 2021 recipient of the AT Champion award is the Indiana State Library Talking Book & Braille Library (TBBL). The Talking Book & Braille Library is a free library service to individuals (of any age) in the state of Indiana who are unable to use standard printed material due to a visual, physical, or reading disability. This service is provided under the National Library Service for the Blind and Print Disabled Library of Congress and in Indiana the service is through the Indiana State Library. Click here to find a program in other states.
To use the library, you must meet certain qualifications and apply for services through the Indiana State Library. Click here to learn about those qualifications and to apply for services. Once an individual or business is approved for these services, a customer may borrow:
Braille books
Digital audio books
Large print books
Audio magazines
Special playback equipment from the library
The materials will be mailed directly to a client's home and braille and audio books are also available to download from the Braille and Audio Reading Download (BARD) service.
BARD is an online service that allows any talking book customer to download books, magazines, and music scores in braille and audio formats. Through BARD a patron would have access to over 100,000 downloadable audio books, music scores, and web-Braille titles. Anyone who is an active TBBL patron can register for BARD, but you do need to apply for this service in addition to applying for the TBBL. Click here to learn more or to apply for BARD.  You can also click here for videos on how to use BARD.
Once approved for BARD, a consumer can:
Download and listen using a talking book player provided by the library
Listen on a BARD Mobile app:
Listen on an approved 3rd party device.
The Indiana Talking Books and Braille Library was given the AT Champion award because of the impact they have on thousands of Hoosiers on a daily basis. The program gives individuals greater independence to read on their own. Many who use this service indicate that it combats their social isolation and brings great joy in their life. They feel greater independence to not have to rely on someone else to read for them. Users have also reported that having the audio books is like having a companion when they are lonely. The library provides library services to over 6,000 individuals throughout the state of Indiana who would not be able to access printed materials. This program has been around since 1931 and they impressively continue to change their delivery of materials to stay up to date with current technology. For all of these reasons and more, they are very deserving of this year's award.
Brian Norton, Director of Assistive Technology, at Easterseals Crossroads presented the AT Champion Award to the TBBL at the 2021 Indiana Vision Expo , which is a biennial event at the Indiana State Library that provides opportunities for people with vision loss, their friends, families and/or service providers to learn about resources that are available to increase independent living for individuals who are blind or visually impaired. When presenting the award Brian said, " Indiana Talking Book and Braille Library has been a hallmark of accessibility for Indiana for as long as I can remember. It's been a stalwart and reliable resource for people who need access to print materials in a more accessible way. I have many fond memories of the people who work there and the services they provide. The work they do is important and, in many cases, essential to the independence and success of the people they serve."
We thank the Indiana Library and staff for being an invaluable resource to many Hoosier throughout the state. You are all truly AT Champions!
For more information regarding these programs contact the Indiana Talking Book and Braille Library at:
Indiana State Library
140 North Senate Ave.
Indianapolis, IN 46204
Hours:
Monday through Friday:   8:00 am—4:30 pm
Closed for state holidays
Contact information:
Toll Free: 1-800-622-4970
Local: 1-317-232-3684
Email address: tbbl@library.in.gov
Website: www.in.gov/library/tbbl.htm
Online catalog: https://klas.library.in.gov/
Do you know an AT Champion you would like to nominate for 2022 award? If so, click here to download the nomination form and let us know.