A few years back we wrote about an adaptive controller available for the Xbox.  Did you know there is now an adaptive controller available for the Nintendo Switch?!  The Flex Controller is a "new and exciting" addition to the gaming community that allows gamers with disabilities to use external switches and joysticks to play video games on the Nintendo Switch!
In addition to helping gamers with disabilities play games on the Nintendo Switch, the Flex Controller may also help them play games on a Windows 10 PC.  It may be beneficial for individuals with muscular dystrophy, cerebral palsy, and other physical disabilities.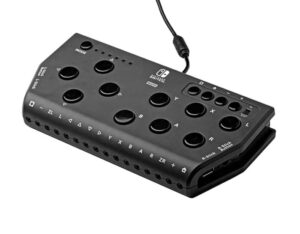 Here's more information:
"Instead of the traditional controller shape, the Flex Controller allows additional assistive switches and joysticks to be connected via the auxiliary and USB ports (sold separately.)  This allows users to customize the setup and interface to meet their individual needs."
The controller was designed and developed under the supervision of Technotool Co., Ltd., a company that specializes in developing products specifically for individuals with physical disabilities.
Overview of the Flex Controller:
Use with Nintendo switch (in TV mode via a docking station) or on a Windows 10 PC

Features 18 different sockets (3.5mm) for different types of switches

2 USB sockets for joysticks.  Compatible with:

Optima Joystick

, from Pretorian Technologies

Horipad for Nintendo Switch

Real Arcade Pro V Hayabusa for Nintendo Switch

Battle Pad for Nintendo Switch

Nintendo Switch HORIPAD Mini

In addition to having the ability to play with a joystick, users can also use eye-gaze technology

Up to 12 profiles available, which allow for the customization of switch actions using the PC app

Can be mounted using a ¼" bush on the back of the unit
Click here to learn more!