There are so many smart home devices available from Amazon, such as the Ring Video Doorbell and several Echo devices. Now there is a brand new household robot for home monitoring: introducing Amazon Astro!
With Amazon Astro, users can stay connected to their homes from anywhere. While other home monitoring devices are mounted and can only provide users with video and images of designated areas, Astro is able to move around from room to room. It uses "advanced navigation technology to finds its way around your home and go wherever you need it."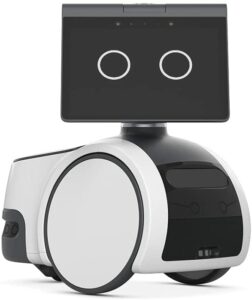 Here's more from Amazon:
"Keep home closer with Astro, the household robot for home monitoring, with Alexa. When you're away, use the Astro app to see a live view of your home, check in on specific rooms and viewpoints, and get activity alerts. When you're home, Astro can follow you from room to room playing your favorite music, podcasts or shows, and find you to deliver calls, reminders, alarms, and timers set with Alexa."
Amazon Astro Overview:
Astro is a home monitoring robot that uses advanced navigation technology to find its way around your home and go wherever you need it
Stay connected to your home from anywhere; remotely send Astro to check on specific rooms, people, or things

When you're not using it, the robot will hang out close by at the ready

With the Astro app, you can see a live view of your home
It learns a map of your home that you can view in the app at any time

Simply tap where you want it to go, then raise or lower the periscope for a better look

Set home monitoring to Away to receive an alert when the robot detects an unfamiliar person

Get push notifications from the Alexa app when Astro detects certain sounds like glass breaking, or smoke or carbon monoxide alarms

Activate your 6-month free trial of Ring Protect Pro to schedule patrols while you're away, proactively investigate detected events, and automatically save video clips in Ring's cloud storage
Click here to learn more!