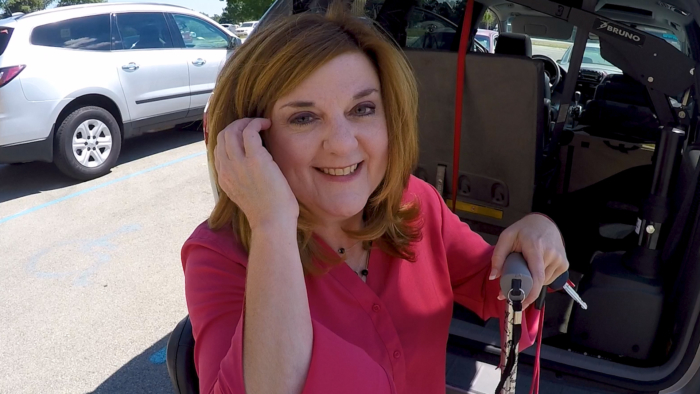 For Hoosiers with disabilities, INDATA's Alternative Financing Program (AFP) doesn't merely provide financial assistance — it allows them to live independently. Thanks to this program, Stacey Oldham never misses her son's soccer games. And Ben Perkins can now go to the driving range to relieve his anxiety.
"We're all about independence and being able to provide the tools people need to be as independent as possible," said Brian Norton, director of assistive technology at Easterseals Crossroads. "If you could use help, please reach out to us. We'd love to talk with you about the program and see how it could meet your needs."
All About AFP


AFP is a low-interest extended-term bank loan program. Made possible through a partnership with STAR Financial Bank, AFP loans provide funding for assistive technology devices including, but not limited to, hearing aids, adapted vehicles, augmentative communication devices, Braille equipment, computers, home modifications, and environmental control units.
This program is for Indiana residents who have a documented disability and need assistive technology. If the person with the disability is under 18 years of age, then their legal guardian may complete the application process. The minimum amount a candidate may borrow is $500 and the maximum is $35,000. The interest rate floats around the 3% mark.
The program involves a few steps. First, those interested must fill out an application from INDATA, which asks for:
Documentation of disability (letter from a nurse, physician, case worker or certifying official).
Intended use of the assistive technology the loan would provide, including vendor information and anticipated cost.
Questions regarding the individuals' acknowledgment of the loan relationship with STAR Financial Bank, that the individual is required to repay the loan and that the loan is not a grant, gift or other type of funding source.
INDATA will then determine if an applicant is qualified for the program by reviewing the application. If qualified, the individual must fill out a loan application from STAR Financial Bank. Once that is approved, they will complete a loan agreement and arrange for monthly installments to be paid directly to STAR Financial.
"A little bit of money can go a long way," said Nikol Prieto, community outreach coordinator at Easterseals Crossroads. "These loans can be true life-changers, and we've seen several great success stories come out of this program."
AFP Success Stories

Diagnosed with multiple sclerosis at the age of 20, Stacey Oldham has mobility issues on the right side of her body. Doctors told her she likely wouldn't live past 50. Now, at the age of 53, she is active in her community and advocating for people with disabilities, thanks in large part to an AFP loan.
While serving as co-chair of the Fishers Advisory Committee on Disability, Oldham found herself in need of transportation assistance.
"I was struggling and thinking, 'How could I afford this right now?'" she said. "So I contacted some friends working with the Governor's Council on Disability, and they referred me to Easterseals Crossroads and the INDATA Project."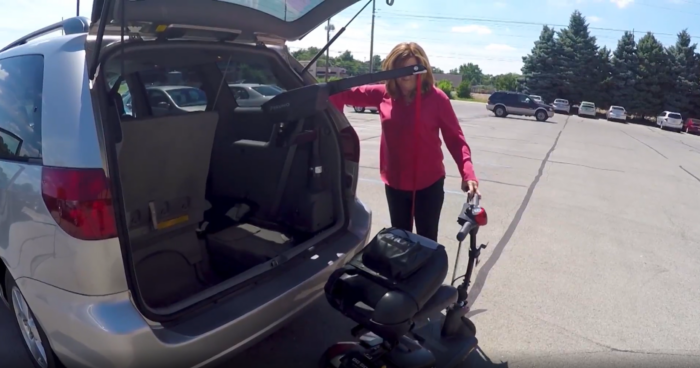 Norton said, "In Stacey's case, we were able to help her purchase a curbside scooter lift for her van to help her be more independent and improve her quality of life out in the community."
Oldham was impressed with how INDATA, Superior Van and Mobility, and STAR Financial bank were able to join forces in helping her determine the equipment she needed at a price that would fit her budget.
"I felt like, 'Wow, all of these pieces are working together, I don't have to go to each (organization) individually,'" she said.
Ben Perkins' story also involves a scooter lift. Due to his weight, he relies on a scooter to get around, but he found himself stuck with a vehicle that couldn't fit it. Unable to afford a car and denied a traditional loan due to his credit score, he turned to INDATA.
Perkins received a loan for a Ford Transit Connect, which fit his scooter, but he had trouble folding the portable ramp into the vehicle. Help didn't stop there. Superior Van and Mobility hooked him up with an automatic lift, and INDATA combined the loans for his car and lift into one loan, so he had only one payment to make each month. And making those payments on time is helping him increase his credit score.
Most importantly, Perkins' van is helping him get to the gym and golf course for exercise and stress relief.
"I was so surprised that this program even existed," he said. "It was such an easy process. Everyone was so nice and courteous. This program is so helpful for people who don't have a down payment for a vehicle or have lower credit scores. It was such a stress-free process and was really a heaven-sent program for me."
How We Can Help You

"Stories like Stacey's and Ben's are what we're always striving to make possible," Prieto said. "They are proof that this program can completely change the way people with disabilities live."
Interested individuals may obtain an AFP loan application from the INDATA Project at Easterseals Crossroads by calling 888-466-1314. Individuals must provide disability documentation and understand this process is for a potential loan — not a grant or other type of financial assistance.