Since I first began writing about fidgets several years ago, the fidget market seems to have only grown in popularity among children and adults alike.  Another available fidget is the BunMo Poppin' Pipes!  
According to Amazon's description, the BunMo Poppin' Pipes are "fun and functional sensory toys that pop, stretch, and connect making these pop tubes the go-to toy for playtime…"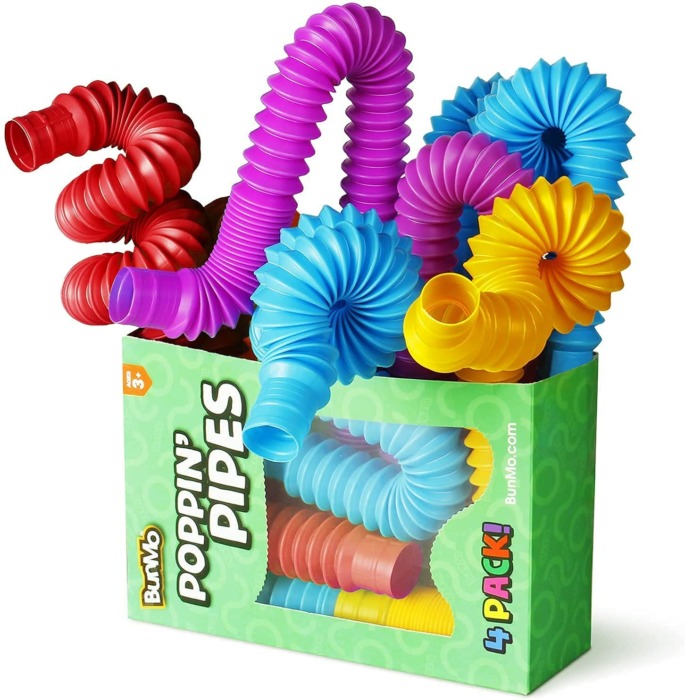 When the expandable tube is stretched or compressed, the noise tube generates a satisfying popping sound.  You can then pull and connect the stretchy tubes together to create lots of fun sounds.  Get creative by twisting, joining, and bending the pull tubes into colorful shapes and letters. 
Overview of BunMo Poppin' Pipes:
The stretchy tubes also help improve bilateral coordination and can be used as physical therapy toys

Provide tactile stimulation and auditory feedback and help with fine motor skills
Ideal for children with sensory processing disorder (SPD), autism, and more
Each box comes with four different vibrant colors
For children ages three and up
Made of high-quality material that's safe and durable
Comes in a bright fun storage box to make clean up time a breeze
Click here to learn more!