Podcast: Play in new window | Download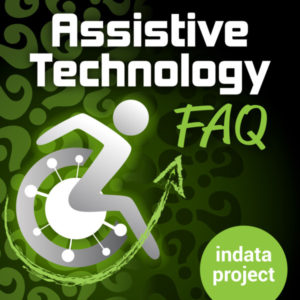 Panelists: Brian Norton, Josh Anderson, Belva Smith, Tracy Castillo
ATFAQ164 – Q1. Microphones for remote interpreting, Q2. Simple wearable reminder device, Q3. Devices for stuttering, Q4. Accessible cabinets, cooktops and sinks, Q5. Accessible trivia games, Q6. Wildcard: What do smart speakers need to improve on
—— Transcript Starts Here —–
Speaker 1:
I have a question.
Speaker 2:
Huh?
Speaker 1:
Like what?
Speaker 3:
I've always wondered.
Speaker 4:
What about?
Speaker 5:
Do you know?
Speaker 2:
I have a question.
Speaker 6:
I've always wondered.
Speaker 1:
I have a question.
Speaker 3:
I have a question.
Speaker 7:
Oh, I have a question.
Speaker 8:
I have a question.
Speaker 9:
I have a question.
Speaker 10:
Welcome to ATFAQ, Assistive Technology Frequently Asked Questions with your host, Brian Norton, director of assistive technology at Easterseals Crossroads. This is a show where we address your questions about assistive technology, the hardware, software, tools and gadgets that help people with disabilities lead more independent and fulfilling lives.
Speaker 10:
Have a question you'd like answered on our show? Send us a tweet with the #ATFAQ. Call our listener line at 317-721-7124 or send us an email at tech@eastersealscrossroads.org. The world of assistive technology has questions and we have answers. And now let's jump into today's show.
Brian Norton:
Hello and welcome to ATFAQ, episode 164. My name is Brian Norton and I'm the host of the show. We're so happy that you've taken some time to tune in with us this week. We've got a great lineup of assistive technology questions for you today. But before we jump in, I just want to take a moment to go around and introduce the folks who are here with me. The first is Belva. Belva is our vision team lead for our clinical assistive technology team. Belva do you want to say hey?
Belva Smith:
Good morning, everybody, and thanks for all your questions.
Brian Norton:
Excellent. Next is Tracy. Tracy is the end data program manager and she is here with us. Tracy, you want to say hey?
Tracy Castillo:
Hey everyone, thanks for having me.
Brian Norton:
Excellent. And then next is Josh. Josh is the popular host of AT Update. One of our other podcasts here at the Accessibility Channel, but also he is the manager of our clinical assistive technology program. And so Josh, do you want to say hey?
Josh Anderson:
Hi, everybody. Welcome.
Brian Norton:
Excellent, excellent. So before we jump in, just to the questions that we have for this week, I want to take a moment and just speak to our new listeners. If you're new with us, just want to let you know how our show works. So we come across very assistive technology related questions throughout the week and we give you a variety of ways or you or others, a variety of ways to be able to provide us those questions. Those would be through our listener line. That's 317-721-7124 or an email address that we've got set up, it's tech@eastersealscrossroads.org, or you can send us a tweet with the #ATFAQ. Those are great ways to get us your questions.
Brian Norton:
But not just your questions. As we go through our show today, we're going to try to answer questions as best that we can, but we know that you guys probably have a lot of great experiences as well with maybe similar situations. And so we would request that you give us your feedback in addition to your questions. And so any feedback that you have about the things that we cover today, go ahead and leave those, again, either on that listener line, that email, or you can send us a tweet too.
Brian Norton:
So those are great ways for you to be able to get your feedback to us. We'd appreciate that very, very much. The other thing is I just want to let you know, as far as finding our show, obviously you've found it, but if you're looking to share it with others, either share it through the channel that you found it through or you can go really just about anywhere. You can find podcast, even some of those places that you wouldn't even think to look for podcasts. So you can go to Spotify, Google Play Store, Stitcher, iTunes, lots of different Amazon Music, lots of different ways to be able to find our show.
Brian Norton:
But without further ado, we're going to go ahead and jump into our questions for today. And the first question is an email from Kelly Ann. She says, we have staff that are having trouble with interpreters, hearing individuals in a conference room. The interpreter is remote and the attendees are in person. Do you have any suggestions or recommendations and or equipment that can be purchased to resolve this issue?
Brian Norton:
So I would just jump out there and just say one of the things that we do for these remote situations is really, I think any conference room type of microphone that you can get can work pretty well. We use a couple of different kinds here. We've got a couple of array microphones. They just plug in through the USB and sometimes I'll get maybe a 10 or 15 foot extension cord because sometimes your computer isn't really located near or close enough to the group for that microphone to pick up everything very, very well so that you can then stretch that microphone out, put it closer to the group, so that again, anybody listening on that computer can be able to hear.
Brian Norton:
And when you think about array microphone or a directional microphone, a lots of times those microphones have several microphones built into one device. And so they're picking up sound from all directions. So it just helps with whatever it's hearing in the room and being able to translate that back through the computer, whatever platform you're using, whether that's Zoom or GoToMeeting or other ways to connect to folks. It'll just work just like a USB microphone.
Brian Norton:
I also know that there's a lot of other ones out there too. We actually have a few here. One is a Bluetooth microphone. So it's an anchor Bluetooth microphone. So the one thing you do need to check with your computer system is to make sure that it's got a Bluetooth capability to it.
Brian Norton:
So that with the Bluetooth microphone, it doesn't plug in anywhere. It's using that wireless connectivity to be able to connect to the computer. What's nice about it is you can put it anywhere within range. So within 20 to 30 feet of the computer. It's going to pick up that sound, relay it to the computer, but your computer does have to have Bluetooth.
Brian Norton:
And then the other thing to think about that as well is sometimes I don't know if it's necessarily an issue anymore, but back when Bluetooth was first introduced at times with microphones, there was a little bit of a delay. And I think there's already a bit of a delay anyways when you're using an online meeting platform like Zoom or other types of things. There's a slight delay, so that when someone speaks, it takes a second or two for it to get across the microphones and for folks to be able to jump in and comment and do those types of things.
Brian Norton:
So just know that there might be a little bit of delay and then really along with all of these things, I think contacting your state AT program. So again, like I said, we have a few here with the INDATA Project here at Easterseals Crossroads. I mean, one of the great things that we offer is a loan library and that loan library is a great way for folks to be able to try out equipment. I would hate for you to invest in a microphone that is poorly made or doesn't do a very good job. So why not try some things out.
Brian Norton:
With our loan library, you can borrow things for 30 days. Let's see if it works and then you can make a purchasing decision and we can go tell you where to purchase it. So just a few options there.
Tracy Castillo:
Thank you, Brian for mentioning the loan library. Yeah, so we do have a few microphones in our loan library. And I remember from previous meetings and such that we've used one, we always like to stick with the USB style microphones. I think they're the omni directions. I think I've heard that word tossed around a few times, but we do have a few in our lending library. And if you are in Indiana, you can visit us at eastersealstech.com and check it out.
Tracy Castillo:
However, if you are not in Indiana, you can check out your state's lending library by going to eastersealstech.com/states and you'll be able to get contact information for your state's lending library. But yeah, I found the Bluetooth ones, they don't go as far as some of the wired connected ones, but you can have them connect to your phone or to your iPad or whatever works for you.
Brian Norton:
Excellent. Hey, I would just like to open this up to our listeners. If you have any feedback regarding, again, a microphone set up when you're dealing with interpreters and trying to listen to folks into a room and really could be really just about for any meeting, if you've got one person remote and you've got other folks that are meeting in person, how do you get the sound out to folks? I think that's probably a pretty big issue for a lot of folks these days, trying to work on the audio settings within their online meeting platforms.
Brian Norton:
Again, it could be any one of them. But getting that audio out is the only way and one of the most probably hardest things that goes along with having online meetings all the time is making sure all your tech works whether that's video or audio, those types of things. So would love to hear from you. Let us know what kinds of devices you've used to be able to help with the audio on some of those online meeting platforms.
Brian Norton:
Give us a call on our listener line. That's 317-721-7124 or send us an email at tech@eastersealscrossroads.org. Thanks so much.
Brian Norton:
All right. So our next question came through email and this person says, "I am looking for a simple reminder solution to help a student stay on task while he's at work. He's unable to use his phone while at work, so perhaps a watch or some sort of an app on the watch or some other simple wearable solution would work. Any suggestions?"
Belva Smith:
Well, I think as we explored this question, one of the things that I found is that if you're using a smart watch, it does have to be connected to some sort of a smartphone. For example, the Apple Watch does have to be connected to an iPhone. Now, the iPhone it can be a bit away from the user, but it can't be too far away. So they have to be able to communicate with each other.
Belva Smith:
So if you are in a situation where your phone maybe is kept in a locker, a pretty good distance away from where you're at, then the watch would not be able to keep you informed of those updates. But if you could keep the phone near you, then that would be great, and you could set the reminders up on the phone or even on the watch. I'm assuming that the Android phones with their smart watches would work the same way because basically there's a relationship between the phone and the watch that can't be broken in order for the two to communicate well together.
Brian Norton:
Belva, does that change if you get a 3G enabled… Or I guess not 3G anymore, but just a cellular enabled watch?
Belva Smith:
Yes. If you have the cellular enabled watch, then yes, you do not have to be close to the phone. And the cellular enabled watch is a little more expensive to purchase and does have to be added to your data plan. whoever your service provider is for your phone, you would add a second device to that plan.Adding the second device is fairly inexpensive. It used to be like $10. I'm not even sure what it is now.
Brian Norton:
That's what I thought it was too, yeah. About 10, $15 or so.
Belva Smith:
Yeah. And in that situation, then yes, you would be able to… The phone could be at home and your watch could be with you at work and it would still work.
Brian Norton:
Interesting. Yeah. Another one I wanted to throw out there too, is something a little bit more simple? It's called the WatchMinder and I think they're on their third revision. So the WatchMinder 3. This is something that we've used in some situations where we just needed something a little bit. Oh, I don't know, for lack of a better term, a little bit dumbed down. It wasn't a smart watch that had all these different capabilities where you can connect to different apps and those kinds of things.
Brian Norton:
They just need something real simple. And so this is just a simple wristwatch that you can easily program to set up discrete vibrating reminders throughout your day. So I think from what I understand, it was invented by a child psychologist and it was really kind of designed to help adults or children with attention deficit disorder or others help keep them focused, help them with managing their time and really kind of modifying thoughts and behaviors. And really what I think is really cool about this is the WatchMinder.
Brian Norton:
You can set up. Again, it's not a smart watch where it's got a digital display. It does have like your old analog displays… Well, not analog because those would be the numbers around the outside.
Josh Anderson:
It's still digital, Brian. It's still digital.
Brian Norton:
It's still a digital display. But it's not really fancy, cool video, all that kind of stuff. I think you might get what I'm trying to say there. But anyways, what it does is it uses a marque. So if you've ever seen marques on the outside of the building where the message just scrolls across the screen, that's what it's doing with your reminders. So you can set up, I want to say, quite a few of those reminders for folks.
Josh Anderson:
Yeah. I can't remember how many, but you can set up quite a few for most of what you probably need during the day and you might need to change it kind of day by day. And Brian, talking about that, there's another one called the Octopus. Now this one's more kind of geared towards kids. So kind of depends on the individual's needs or if that would be something that they'd kind of want. It looks a whole lot like an Apple Watch, but it is not. It doesn't actually have to tether to a phone. It does tether to an app that you can put on anyone, a family member, a friend, a case worker, whomever kind of thing.
Josh Anderson:
It's made to help kids learn good habits like brush your teeth at this time, get dressed at this time and it'll come up with icons. So where the WatchMinder is going to be words and things like that, if the individual can't read or has difficulties with accessing print, they can come up with pictures and there's lots of different ones you can use.
Josh Anderson:
I don't know. They're on version three as well. So apparently they all just seem to go that way. But it is available. It's about 50 bucks. It's on pre-order right now. And then there is a monthly fee between 9 and $15 just depending on if you want a pro version or another. So not super expensive even with that monthly charge, if you kind of look… And again, it looks a little bit more like an Apple Watch. It's kind of, I don't want to say kid looking, but brightly colored. But you see a lot of people with brightly colored Apple Watches too. So it wouldn't stick out too much, but that person wouldn't have to have a phone with them. They can get vibrating or noise alerts.
Josh Anderson:
And again, you can put actual pictures on there so that they know, "Hey, for the next 15 minutes, I need to do this task or this kind of thing and kind of have that." So for queuing and reminders, it might be a good way to go for something that's a little less expensive and something that doesn't have to be tethered to a cell phone all the time.
Tracy Castillo:
So I went a little different with my answer. You guys have brought up wearables. So I don't know what I missed in the question, but always with reminders, I'm always brought to the attention of my AI devices, my Alexa, my Siri, whatever I have near me, if I have something I have to get done, I will just ask them to remind me at a certain time. And the other day, because you guys know day to day, I give away computers. So the other day I was sitting there and a lady looked around our Depot area and saw that we have one of the Alexa shows set up.
Tracy Castillo:
I keep looking over because I don't want her to turn on right now. But she looked and she said, "Oh wow, you guys have those there, up here." I said, "Well, those really aren't for the consumers, those are for our volunteers to help them remind them when lunchtime is and it'll remind them when it's time to put up their tools, and things like that." And she mentioned to me that she had seen one with her friend. She really liked it, but didn't have one.
Tracy Castillo:
At that time, I did have one of the older Alexa devices. So I was able to give it to her for free. Another reminder app that I know of, and we actually have this device in our lending library, it's called the Reminder Rosie. And so this device looks kind of like an alarm clock that you would see by your bed. It's got the big LED lights on it. They're digital, the digital LED lights.
Brian Norton:
Digital analog, did you say?
Tracy Castillo:
Digital analog. There's a little clock on it too.
Brian Norton:
Right.
Tracy Castillo:
But with that, you can also set reminders for you throughout the day to remind you to do such things like take your medicines. Honestly, that's what the lady told me she was going to use her Alexa device for was to remind her to take her medicines. When you do set the reminders up through, let me go back to the first one I talked about, but when you set the reminders up for the Alexa device, they come through on your phone, so you get those notifications.
Tracy Castillo:
I guess if you were wearing your watch, it would show there as well. But yeah, now going back to the Reminder Rosie, we do have one in our lending library and if you wanted to check it out for 30 days, you could always do this.
Brian Norton:
Yeah. It's interesting as we kind of talk through some of these solutions, I love the fact that we can use AI like the Amazon Echo Shows and those types of devices, the Reminder Rosies. But then also the wearables we talked about too. It probably would depend a little bit on what this person's job is, what their setting is like, what their environment is like.
Brian Norton:
If you're stocking shelves in a grocery store, the Reminder Rosie and the Amazon Echo Show wouldn't work very well for you. Right? Because you're going to be all over the store. But if you're in a smaller office setting or you're at a workstation, maybe you're packing boxes or doing things like that and working in a warehouse and you have an area that you work in, well then maybe those would work pretty well for you.
Brian Norton:
So I think maybe a lot goes into the environment and the situation and what that person does day in and day out to be able to help lend themselves to those. Interesting. So, hey, I would love to just open this up to our listeners. If you have a simple reminder solution that has worked for you or someone you have worked with, let us know. You can give us a call on our listener line. That's 317-721-7124 or you can send us an email at tech@eastersealscrossroads.org. Thanks so much.
Brian Norton:
All right. So our next question is an email from Blake. Blake says, "I have someone who has developed a stutter over the years and they are looking for devices that could help. I found a device called SpeechEasy, and it appears to work very well in the testimonial videos that he's watched. Any experience with this or other tools that would be helpful for this situation?"
Belva Smith:
I haven't had any experience with what Blake had mentioned there, but what I found is Amazon does have, if you happen to have a membership to the… What's their book club?
Brian Norton:
Audible?
Belva Smith:
Audible. They do have a large number of actually even free books on different ways that you might be able to exercise or work on your stuttering. And some of them are free. Some of them do have a small cost. But I have heard a lot of reference to being able to do certain practices. Exercises is what I call them that can help work on that. But I've never really been addressed with that situation. I've also heard singing because we know people who sing that stutter, but when they sing, for some reason they don't stutter.
Brian Norton:
I think that's the whole thing with SpeechEasy is something they do that whatever it listens to, whatever it hears, it then relays that back to the person who's wearing the device so that they hear what was ever said in the room on a slight time delay and at a different pitch, and they call that the choral effect. Because like you said, a lot of folks who are singing don't… When they're speaking, they have a stutter. When they sing, they don't.
Brian Norton:
So I think the device that's its whole purpose is to recreate what they refer to as a choral effect so that they don't stutter. So it's pretty interesting. I don't think you can just go out and purchase this device. I don't know if you have to go to an audiologist, to a speech therapist or contact the company directly. We don't have one in our library. And the reason for that is they look a lot like hearing aids and a lot of them are fitted to a person.
Brian Norton:
So you'd have to get them fitted. The cost of those devices are somewhere between 2,500 and $4,000. You can set up payment plans and do those kinds of things. But the reason there's such a price range is they come in different sizes and shapes depending on what would work best for you. So there's like an in the ear, there's a behind the ear, there's a comfort fit. There's a few different options that folks can use in that regard.
Josh Anderson:
And I'd have to say whoever the individual is, it'd be good to reach out to an SLP, speech language pathologist. They're going to be able to help. They know the tools and the ways to go. I mean, I know they can help with everything from mispronouncing a letter in words, to augmented communication and everything in between. So they might even have some kind of better tools, exercises, and different things. Because we love to say it's always technology that does it all, but sometimes it is actually the people.
Josh Anderson:
So I would definitely reach out if you can, if you can find one and maybe see if they have some tools or different things. Again, a lot of it could very well be exercises, exercise in your voice, your vocal chords, and different ways to really help with that stutter and see if maybe they can find the root of it, and again, help them get over it.
Brian Norton:
Yeah. One thing that I did find interesting on the SpeechEasy website, I went out there and they actually do recommend a few different apps as well. You can go to the Apple Store, the Google Play Store and find different apps that can help kind of as a therapy for folks who have a stuttering issue. DAF Assistant and DAF Professional. D-A-F is DAF and they look like they are available for Apple and Android. You can get a free demo or a free trial for the Android devices, if you want to try those. And then there's something called FluencyCoach, which is, I think only for an Apple device. And then Speech 4 Good is another one. So they're recommending also some different apps as well that can be helpful for folks who are stuttering.
Brian Norton:
I think probably if you go look at them. Again, I'm not sure to varying degrees how helpful they are or not. I have not worked with this device or these apps, but I do find it's interesting that they are talking a little bit on their website about smartphone apps to reduce stuttering as well.
Brian Norton:
Well, hey, I'd just like to open this up to our listeners. And maybe you guys have had a situation where you've worked with someone or that this is something that you struggle with as well. And if you have any tips or tricks or apps or technology that could be helpful for this particular situation, love to hear from. You can give us a call on our listener line. That's 317-721-7124. Send us an email at tech@eastersealscrossroads.org. Thanks so much.
Brian Norton:
All right. So our next question is an email from Tim. "Can you tell us how and where to source adjustable height cabinets, cooktops and sinks? Are there regional suppliers or can you refer us to a manufacturer?" And I think in this particular situation, when they talk about adjustable height cabinets, they're talking cooktops, or sinks, they're really talking about kitchens, bathrooms, those kinds of things that could be helpful for folks with disabilities.
Brian Norton:
So ways for them to get to the upper cabinets, which can be a real struggle. And interestingly enough, we do have a home mod program here at Easterseals Crossroads, and John is our provider in that particular program. We deal with this situation quite a bit, looking for, again, ways to make places or spaces within people's homes, more accessible to them, especially if they have any kind of a mobility need where they're maybe in a wheelchair, whether that's power or manual.
Brian Norton:
Maybe they're trying to get in and out of a shower, access into their bathroom or access into their kitchen. So getting access to these types of things would be super helpful as you design kitchens or think about options for folks and be able to present those to them to make sure that they have an accessible space that they can live in and work in and be able to do that to things that they need to do in their home.
Belva Smith:
Great time to have John on with us because I'm sure he's got all kind of knowledge about this kind of question. However, I did a little bit of just Google searching and I did find a place called kitchenmagic.com. And it looks like they have the ability to do just about anything. They are very focused on not only accessibility, but safety because it's very important that especially things like the cooktop and the sink be safe as well as accessible.
Belva Smith:
As I explored their website, they do have a number for you to call for a free end home consultation and price quote. And then you can also fill out a little form there to schedule an in-home consultation if you'd like. Another place that I found was accessibility construction.com and it looks like they too pretty much focus on the kitchen areas, but I think that may be… Well, nope. As I go on down, I do see that they are also looking at bathrooms for things like accessible showers and grab bars.
Belva Smith:
So accessibleconstruction.com and then kitchen magic.com would be two websites that I would suggest looking at. And again, this is where John would be handy, but I don't know of any local manufacturers or builders, I guess that do this kind of stuff. But I know that they've got to be out there.
Brian Norton:
I think a lot of times when you're getting into these situations, hopefully you're involving someone who's familiar with… I mean, you can go hire a remodeler, those types of things, but hopefully you're hiring someone who has experience with disability and then understanding of these tools and devices. So specifically here at Easterseals Crossroads, that's what our home mod program focuses on. We're not remodeling homes or doing those kinds of things. We're specifically working with folks with disabilities, making sure that they have an accessible living space whether that's a bathroom, a kitchen, a hallway, making sure that there's enough clear space for them to be able to get to one end of the other and to be able to turn around and get back out.
Brian Norton:
I do think it's important to be able to kind of connect with maybe local disability service organizations who maybe offer kind of a home modification service. I know here in Indiana, there's several. We're one of them, but it's just helpful because I think some things will be thought of as far as accessibility that may not be thought of from just a general contractor or from someone who's simply used to just doing remodels. Something that's more disability specific can be helpful in those situations.
Brian Norton:
But I would work with your contractor and say, "Hey, we are looking for these kinds of things in our kitchen, in our bathroom, and can you help us find those?" And then again, maybe they reach out to a disability service organization to be able to get connected to some of these places that source this type of equipment for a person's home.
Brian Norton:
This is a good question. There are a lot of places. You've mentioned a couple that I've heard of before accessible kitchens, like Kitchen Magic and Accessible Construction. Rehabmart is another one that's pretty popular. They've got a lot of different things. You're going to find that they're pretty expensive and I'm not sure exactly about availability.
Brian Norton:
It seems like anything in the construction industry these days is on way, way, way back order. Way, way, way back ordered. And so I'm not exactly sure what the availability or those types of things are, but there are lots of people out there who are willing to help and help provide information in this area. I would love-
Belva Smith:
[inaudible 00:30:25] I'm sorry. I didn't mean to cut you off, but I think in this situation, accessibility and safety have to go together. You may find a contractor that says, "Oh, you need a shorter cabinet. Well, I can do a shorter cabinet." But if they're not experienced with the true accessibility and safety together, then they may just make something that though it's shorter or taller or whatever, it may not be appropriate for the individual. So I think the two go together.
Tracy Castillo:
I was thinking the same thing. I was thinking the same thing. I mean, you just can't pull out a [inaudible 00:30:59] saw and start chopping down cabinets.
Belva Smith:
Right.
Brian Norton:
Well, you can.
Josh Anderson:
For sure. [inaudible 00:31:07]
Brian Norton:
Right.
Josh Anderson:
Belva, you bring up a great point because I've been to places where they're like, "Well, the countertop is lowered, so it's definitely accessible for someone in a wheelchair." And it's like, "Yeah, but there's a wall. How are they going to pull up? It's like, "Well, they can go sideways. You got them filling out 300 pages of paperwork. That's hard to do sideways." Everyone doesn't have that. So really getting somebody in there that knows to think through all those different components because yeah, you can lower the sink all you want, but if you can't pull up under it, it's not really accessible.
Tracy Castillo:
And then I've been to some houses where the sink is lower. There's a an area where your foot plate can go under. But then also the knobs are on the front side of the sink rather than on the backside of the sink. I found that-
Brian Norton:
That's interesting. Yeah. I know also here at Easterseals Crossroads, we also offer just advice to organizations as make plans for remodels of not just a home, someone's home, but also for businesses and things like that, just to say, "Hey, you think about these things when you're thinking about disability in its entirety." So all different disabilities whether it's deaf or hard of hearing, and thinking about interpreters, and sign language, and captions and those types of things, or whether you have sensory difficulties with whether it's vision or other sensory needs as well, we offer support and some guidance in those particular areas as well.
Brian Norton:
But hey, I would love to open this up to our listeners. If you guys have any experience or work with places where you can source these types of cabinets, cooktops, sinks for folks with disabilities, we'd love to hear from you. Let us know where you source those. You can give us a call on our listener line. That's 317-721-7124, or send us an email at tech@eastersealscrossroads.org. Thanks so much.
Brian Norton:
All right. So our next question is an email from Alexis. Alexis, not Alexa. But she says, "Good afternoon. I am reaching out to you because I have a client who is completely blind and she has asked me to help her find some free online trivia games that would be easy for her to use. We tried to look up a few, but they seem too hard for her to use. Hoping you have suggestions for us to try next. Appreciate your time. Have a great day."
Belva Smith:
Well, I would suggest an Alexa or Dot. Any one of those personal assistants. They can all play trivia with you endlessly and it's free. And it's very simple. You just ask her to start the game and she will start the game. Ask the question, wait on you to answer and let you know whether you pass or you fail. So that's one of the suggestions that I would have that I found online. If they're looking for computer based and I'm pretty sure that's what it was, I'm assuming Windows. audiogames.net.
Belva Smith:
They have several different online games that are available. I can't guarantee that they are all free, but audiogames.net would be another place to look. And then the thing is even if they're inexpensive, if they're not fully accessible, then that becomes wasted money. So that's the hard part. And a lot of times you don't know until you've actually paid for the game and downloaded the game as to whether it's going to be something, number one, that you enjoy. And number two, that you can even do because someone calls something accessible, doesn't necessarily mean that it is accessible.
Brian Norton:
Right. I mean, one of the places that I always refer to folks who are blind or visually impaired, if they've got really questions about accessibility is a place called applevis.com. AppleVis is a great place where there's a lot of folks who are blind or visually impaired and that's all they talk about. They talk about lots of different things from gaming to computers, to software, to hardware, and what's working best for folks depending on the tools that you use.
Brian Norton:
And they actually recently had a whole thread about accessible trivia games. They actually mentioned a few that seemed mostly accessible or pretty accessible. Trivia Crack was one. They mentioned that's mostly accessible. Sometimes I guess you have to turn off voiceover to use it. And at times you're going to find some buttons are unlabeled, which can be problematic obviously if you're using voiceover or TalkBack on an Android device. To be able to read those, that could be problematic.
Brian Norton:
So you're not knowing what you're on or what to press. But Trivia Crack, they said is mostly accessible. QuizClash was one that their reviews say it's very accessible or fairly accessible. It's multi-platform. Quiz It, it's pretty accessible as well. However, with Quiz It, they talk about… One of the things that it asks, it gives you an image and you're supposed to answer about an image. You can turn those off and say you'll want to go in and turn off the image questions and the settings before playing, because that'll be hard to do anything with.
Brian Norton:
But again, they have a lot of different suggestions. They talk about, is Jeopardy accessible? Ears Millionaire is that accessible? Those types of things. And they just kind of handle those kinds of things and maybe able to steer you towards the most accessible games for your tablet devices, smartphones, those types of things. But Belva, man, I really do love your idea about… I don't often use my Amazon Echo device for those, for playing trivia, but I guess you could probably do quite a bit with that.
Belva Smith:
Oh, yeah. I mean, all you got to do is say the name and say, "Can you play trivia?" And boom, it'll take off. It usually will do five questions. And at the end of the five questions, it'll kind of grade you and let you know how well you did or how poorly you did. And then it'll ask, "Do you want to continue playing?" And it'll keep on going.
Belva Smith:
Brian, that AppleVis, I'm a huge fan of that website too, though, I haven't been there in a while. Do they review Windows online games or is it just Apple? So when they're reviewing, are they just talking about voiceover or are they talking about Jaws as well?
Brian Norton:
Really, I think their focus is iOS, iPad and Mac. However, I've seen them talk about other stuff as well. So I don't think they're solely tied to Apple products, but I know that's kind of their focus. But I don't think they're solely tied to those. So you can probably ask lots of questions. Well, hey, I'd love to open this up to our listeners. If you have any experience with accessible trivia games, specifically for folks who are blind or visually impaired, let us know. We'd love to be able to pass this on to Alexis. So give us a call on our listener line. That's 317-721-7124, or send us an email at tech@eastersealscrossroads.org. We'd love to hear from you. Thanks.
Speaker 10:
And now it's time for the wild card question.
Brian Norton:
All right. So our next question is the wild card question and this is a question we haven't had any time to prepare for. And this week Belva has a question for us. So Belva, what do you got for us?
Belva Smith:
Well, this kind of goes along with the answer to the last question. So the Alexa, our smart friend, she came out in 2014. And though they have really developed the abilities, they haven't really improved in a lot of areas, and there are still some areas that I think that are in need of improvement. So I guess my question to y'all is what kind of an action or what kind of an improvement would you like to see with these personal devices?
Tracy Castillo:
I think about this question and I don't know if I really want it fixed, but every morning my husband makes eggs and he says, "Hey, make a 13-minute timer." And she responds to him and he's got a very thick Spanish accent, "Starting a 30-minute timer." Well, that's not what he wanted, so there's this back and forth exchange with the device. He tells me that 12 minutes is not long enough. 14 minutes is not. It's too long and 13 minutes is the prime time for these eggs and she just does not get that.
Tracy Castillo:
So I think I just want it to be easier for him. Not like when he's doing it, finally, he gets real close to it and he says it again. And then she responds to him in Spanish. And I'm in the other room just laughing because I think it's hilarious.
Tracy Castillo:
I don't know if I would completely change because it is kind of humorous in the morning, but for her to be able to understand accents a little bit more. Another problem I do have with her is when I start my sentence, maybe I haven't fully completed my thought of what I want to ask her for and she'll stop me and interrupt me, and that's not very fun. So just a little bit more time in my sentence. So wait until my voice goes up to indicate that I've asked a question rather than waiting for that pause and then saying, "Oh, I don't understand what you want." Because all that does is make me stop.
Tracy Castillo:
I'm assuming if you had a disability and that was causing you to stop right there, it may cause a little frustration inside your mind where it might cause things not to come out as clearly anyways, and may end up with a back to back discussion with Alexa. So yeah, just a little bit more time when I start my question, wait for those cues when I'm finished before answering.
Josh Anderson:
Yeah. And Tracy, along those exact same lines, one of the issues I run into with working with folks a lot of times is understanding and not the individual, just understanding what they need to say, but the device actually understanding what they're saying. So people that don't have typical speech and be that because English is their second language or because of a disability, a speech impairment or things like that. It has a lot of trouble.
Josh Anderson:
Now, I have talked to some folks who their kids maybe have a speech impediment or they talk too fast and have a hard time where we're using the devices actually kind of help them just because they've slowed down their speech in order to cut down on that frustration. But for everybody that's not really possible.
Josh Anderson:
And I know Google has Project Euphonia where they're trying to voice bank people who have atypical speech in order to make AI devices be able to understand them better. I don't know where that's going or how far it's really gone, but I'd say, "Yeah, especially since it's a voice activated assistant, the more voices it can understand, the better." And like you said, the more time it gives you because I… And probably from listening to this show, people probably know I stop and pause and try to think and lose my train of thought, forget what I was saying.
Josh Anderson:
It stinks when you're about to get that last word out and it's like, "I don't understand what you want or I can't do that for you." Or something like that. It's like, "Well, I'm not done." And then you realize that you're yelling at an object and it's not really getting anywhere. So I'd say as far as accessibility, those are some really great ways. Some of them do have some wonderful things, especially if you get the ones with the screen on them. There's great accessibility features in there for individuals who are deaf or hard of hearing as far as captions. As far as when you're talking and asking questions, it can come up as words as opposed to sound.
Josh Anderson:
So if you have problems accessing it that way. So they do think about that and they are building those in. I know that Amazon does have a pretty robust department of folks trying to make sure that they're more accessible for folks. But really I think the things you brought up are the biggest issues that I see people have.
Brian Norton:
I think that's been an issue for a while, just with speech, software, whenever you're trying to take voice input. I mean, that's been a long time issue being able to help people with difficult speech, difficult to understand speech, to be able to use things. So I think there is also, I want to say last fall, I think Alexa, in kind of the same vein as Project Euphonia that Android did. I thought they actually have now an accessibility feature that can be turned on to be able to help folks get a little bit more time to your point, Tracy earlier a little bit more time to say what they're trying to say and really trying to help better understand folks. I don't know exactly what that is, but I have read in a couple of different places that last fall, I thought they also started offering something like that to folks.
Brian Norton:
So it be interesting to kind of bring this back to the next show and give you guys the actual name of the accessibility feature that does that. But I was struggling to find that as I was looking for it. But I do think they have tried to address that a little bit. But again, this has been an age old issue. I always tell folks when I'm working with them, you really need to stop and think about what you're going to say before you say it because, again, if you can't get it all out in one breath, it's going to go ahead and move on or say, "I don't know what you're asking me,' or not recognize it correctly.
Brian Norton:
So always having people pause before they're going to say something, think about it, know what they're going to say and then say it. It always works a little bit better is one of those tips and tricks I've always used with Dragon. Kind of a really popular voice input system, but it's the same with these other devices that are out there. And Belva to your question, man, these things do so, so many things.
Brian Norton:
I would love for them to keep building on the accessibility that they have built in. I mean, it's got a lot already there when you think about Amazon Echo devices. They've got a screen reader. They've got all sorts of things built into the background. They've got things for folks who are deaf and hard of hearing. So it's tapped to Alexa. They've got so many really great features. I just want them to continue to build it out because these are really revolutionary devices.
Brian Norton:
I mean, even thinking from the aspect of environmental controls to be able to turn on and off their lights, appliances, and other kinds of things. Flip that industry up on its head, because it used to cost a ton of money to bring somebody out with a specialized system. Well, now you can kind of do it yourself if you want with some of these devices. These are really remarkable devices and I think there's a lot there.
Belva Smith:
Yeah. I agree with you, Brian. And I think if you had a room of 500 people and ask the same question, the number one answer would be improvement in its understandability, I guess is the word I want to say. But to go along with everything that everybody has said, Josh, I remember as my grandkids were growing and learning to use these devices, it did force them to, A, think about what it was they were going to say and B speak it at a rate that could be understood and at a level because my grandson has had a tendency for a couple of years to whisper everything he was going to say. And that taught him to raise his voice a little bit so that he could be heard better.
Belva Smith:
In my home, I have one in almost every single room and I do control things like the garage door, the lights, the fans, the security cameras, all different kinds of things that I control in the home with my smart device. And it always takes me back to when I first came into this industry, when like you were saying, Brian, I would go into someone's home who would have all this terribly expensive equipment that would allow them to do something as simple as turn their TV on or off or turn their fan on or off, and it never worked properly. Just with these devices, it was all about how you said what you were trying to do because it does have to be spoken in a certain format for it to understand.
Belva Smith:
One of the things that I would like to see… And also before I say what I would like to see, I want to say that I do appreciate and congratulate all of the developers for keeping accessibility in mind. Some of the things that they're doing is making things accessible without them even realizing it.
Belva Smith:
For example, being able to adjust the thermostat. For an individual who cannot see a thermostat, being able to verbally adjust that is amazing and that's accessibility in my world. But in their world it was just like, "Hey, cool, look, we got this wifi thermostat. Now we can control it."
Belva Smith:
One of the things though that I have heard a couple of my consumers say that I think could be interesting and they should try to figure out how to incorporate is how to keep a daily diary. I don't know, maybe that is something that they do offer, but if it is, it's not something I'm aware of, but I have clients that say, "It would be nice if I could just keep a daily journal by talking to my device and having it save it, and then I could maybe later print it so that I could share it with others or whatever."
Belva Smith:
As far as I know, they don't have that feature, and I do think that's something that… Because a lot of people don't want a computer necessarily, but they will talk to a personal assistant to get things done or to find out information. I love the amount of information they offer. You can virtually learn anything. Maybe not from one, but that's why I have all different kinds because I know a lot of times my Amazon device will say, "I'm sorry. I can't help you with that." But then when I go to my Google device, Google just comes right up with a good solution and wants to know, "Do you, hey, want more information?" So I think that they are amazing and it'll be interesting to see where we are in 10 years with them.
Brian Norton:
Absolutely. Absolutely. When I was talking about that accessibility feature, I don't think it's directly built in, but there's a company out there called Voiceitt. So Voice I-T-T. And they have an app for folks with atypical speech patterns that can then help learn phrases and then be able to use those phrases to be able to speak to your smart assistant, intelligent, personal assistant. So whether that's Google Home or Amazon Echo Show. So voice, it would be someone to be able to look up and learn more about.
Brian Norton:
So, hey, I would love to just open this up to our listeners. If you guys have feedback about things that you would like to see your smart assistant be able to do for you, let us know. I would be interested to hear what your responses are. If you can send us those responses to our listener line, that's 317-721-7124 or through email. That's tech@eastersealscrossroads.org. Again, would love to hear from you on that.
Brian Norton:
We do want to take a moment as we wrap up our show today to thank our panel. And so I just want to go around and give folks an opportunity to say goodbye to our listeners. We'll start with you Belva. Belva, if you want to say goodbye.
Belva Smith:
All right. See you everybody next time. We got another one in the can.
Brian Norton:
Excellent. Excellent. And then Tracy.
Tracy Castillo:
Oh goodness. I guess I have to say bye. Please have me come back again. I appreciate it.
Brian Norton:
Will do, will do. And Josh.
Josh Anderson:
Until next time, everybody. Thanks for listening.
Brian Norton:
Excellent. Excellent. Yeah. Again, thank you guys for listening. And we look forward to seeing you guys in a couple weeks. Take care.
Brian Norton:
And it seems like every week we have at least one blooper. So here you go.
Belva Smith:
Now, I can't hear you.
Josh Anderson:
Huh? What? Still can't hear you. Hey, the light is red. The light is red on your thing.
Brian Norton:
This one makes me sound sexier.
Belva Smith:
There we go. I thought the sexier was no sound.
Josh Anderson:
So just press mute. You sound great.
Brian Norton:
Information provided on Assistive Technology FAQ does not constitute a product endorsement. Our comments are not intended as recommendations nor is our show evaluative in nature. Assistive technology FAQ is hosted and produced by Brian Norton. Gets editorial help from Josh Anderson, Belva Smith, and Tracy Castillo. Receives support from Easterseals Crossroads and INDATA Project. The show transcript is sponsored by InTRAC, the Indiana Telephone Relay Access Corporation.
Brian Norton:
To learn more about InTRAC, go to indianarelay.com. Assistive Technology FAQ is also a proud member of the Accessibility Channel. To find more of our shows, go to accessibilitychannel.com.