Over the years we've written about different GPS trackers for children, one example being AngelSense.  Another available option is the Jiobit GPS tracker.  
The Jiobit tracker is a small, convenient way to keep tabs on children who might roam via Bluetooth and GPS.  The device itself is a rubbery teardrop measuring 1.45H x 1.97W x 0.47D.  It features two holes on the back to thread a lanyard or shoelaces through; you can also clip it securely to clothing with its included belt clip.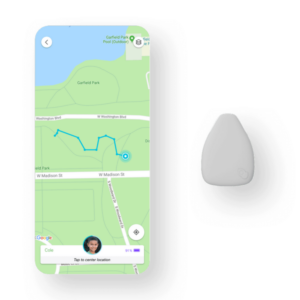 Jiobit works with an Android or iOS app that shows where your child is.  On the app, you can get accurate and real-time tracking at any distance.
Overview of the Jiobit GPS Tracker:
Tiny teardrop device that makes it easy to keep tabs on children who might roam

Real-time updates on where they are

In the app, you can activate SOS mode which will notify your Care Team and send emergency details along with current location to a professional dispatcher

The device's owner can invite other app users to be caretakers of Jiobit; this allows the device's owner to keep tabs on who the child is with and more

Set up geofences around trusted locations like home and school, and know when your child arrives and leaves
Click here to learn more!