A few weeks ago I wrote about the Mobi-Mat RecPath which you can place over sand, grass, gravel, and more.  Another available option is an Ekomat.  Ekomats are "dynamic, multipurpose use tools that offer flexibility, slip-resistance, durability, versatility in a wide range of applications…"  They can be placed on all sorts of terrain to increase accessibility.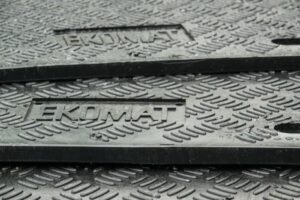 A neat feature of Ekomats is that they are made of plastic shopping bags and diverted landfill-bound material.  Here's more from their website:
"Ekomats are engineered from a revolutionary technology and low-emissions manufacturing process that converts single-use and 'dirty' plastics into Ekopolimer—a recycled and superior material."
Overview of Ekomats:
They are water-impervious and flexible
They hold up in all-season weather and temperatures from -40ºF to 158ºF
Increase accessibility to remote sites
Provide a slip-resistant and stable surface
Can be used as a temporary, impact-resistant flooring option
And more
Click here to learn more!