A couple of weeks ago, I wrote about a portable, modular ramp system called Roll-A-Ramp.  In addition to offering ramps to help individuals into homes, buildings, and vans, they also offer a solution to help users get into boats: introducing the Roll-A-Ramp Boat Ramp System!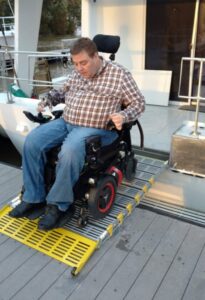 The Roll-A-Ramp Boat Ramp System makes it ideal to load or unload passengers, pets, and supplies.  You can use the system as a gangway from dock-to-shore, dock-to-boat, boat-to-boat, or riprap-to-boat.  It can be used as a fully portable gangway or gangplank.
Overview of Roll-A-Ramp Boat Ramp System:
Available in 22″, 26″, 30″, and 36″ widths and at various lengths
You have the option to add handrails to one or both sides for added comfort and stability
Ramps 11′ and longer will require support stands
Aerospace 6061 aluminum with a T6 Rockwell hardness
Strong and lightweight – supports up to 1,000 pounds
Will not rust or corrode
Flexible – add ramp sections as needed to change the length
10-year unconditional warranty
Click here to learn more!