Research suggests that listening to or singing songs can provide emotional and behavioral benefits for individuals with Alzheimer's disease and other types of dementia.  Many of these individuals, however, have a hard time trying to operate modern music-playing equipment.  This is where the Simple Music Player may come in handy.
The Simple Music Player has been designed to be as easy as possible to operate for many people.  The styling of the player is reminiscent of old radios and is instantly recognizable as something which plays music.  
To operate, there are only three controls:
Start playing music – just lift the lid
Skip the song – press the big button
Stop the music – close the lid
The volume control is designed to avoid being accidentally changed by the user.  To adjust the volume, using a pencil or something similar, press and hold one of the buttons underneath the player.  Hold the control for 5 seconds for the volume to begin increasing or decreasing.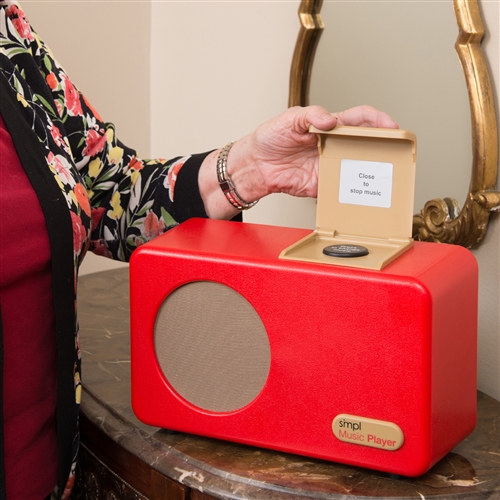 Overview of the Simple Music Player:
A preloaded MP3 player that is easy to operate

You can upload favorite music, books on tape, podcasts, etc. from your computer using a USB cable
Only 3 controls:

Lift the lid to play music
Press the big button to skip the song
Close the lid to stop the music
Music will always continue where it was left off

"Highly durable" construction consisting of a strong wooden enclosure with a high-strength plastic covering
The loudspeaker grill is cloth finished but reinforced with a steel mesh to avoid any damage to the speaker
Rubber feet ensure the music player doesn't slip
Click here to learn more!
Click here to learn about Vera, a music-playing app for individuals with dementia.