Last week I wrote about Kinzoo Messenger, which is a kid-friendly messaging app.  Another available app from the same developers is Kinzoo Adventures.  Kinzoo Adventures helps children harness their creativity, stretch their imaginations, and animate their videos.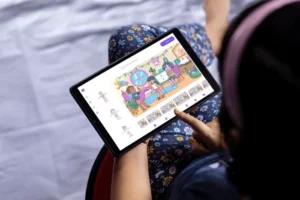 This fun app lets kiddos create their own characters and stories – and easily turn them into videos they can share.  While using the app, children can dress their characters in several outfits, take them to far-away locations, and more!
Here's more from the app's developers:
"Stories help bring us closer together–and Kinzoo Adventures gives kids the tools to bring their ideas to life and easily share with loved ones…

We believe that kids should have access to technology that lets them safely explore their imagination—and every feature in Kinzoo Adventures is built with that in mind."
Overview of Kinzoo Adventures:
Designed especially for kids, Kinzoo Adventures is a "safe, user-friendly way" to explore the world of digital animation

Ability to build your own custom avatars to use in your stories

Choose different outfits, hairstyles, skin tones, and expressions

Explore dozens of different locations

Easily export your stories so you can share them with friends and family

Access your stories on any device
Click here to learn more!