Creating an Inclusive Environment
INDATA's device demonstrations are acts of inclusion. They invite people with disabilities to practice using assistive technology designed to help access and navigate this world that's still learning how to accommodate their needs.
This continuous learning and development is most evident in INDATA's lending library. With more than 2,500 items, it is the state's largest library of assistive technology devices for loan, and it continues to grow! (Anyone who lives in Indiana may borrow a device free of charge for 30 days at a time.)
Free demonstrations are scheduled so that each device user spends up to at least 20 minutes with an assistive technology professional to learn the basic features of the device and how it may best assist them. Equipment demonstrations are available both in person and online using video conferencing technology.
As INDATA's Demo and Loan Specialist Blake Allee pulls items off the library's shelves for people, he learns new things all the time, thus putting himself and his colleagues in consumers' perspectives and providing the most compassionate service possible.
Allee carries on the generosity of former Demo and Loan Specialist Justin Amber, whom consumer Rebecca Ramsey said "empathized with what my condition was and opened up a path I didn't know existed."
As with so many other demo cases, that life-changing path opened up with something as simple as a screen magnifier.
Learning New Ways of Living
Since the lending library is so large, devices are sometimes new to Allee, but that only brings him closer to the consumers he serves.
For example, Allee can now connect more closely with people who are blind or visually impaired, as he learned braille from a device in the lending library.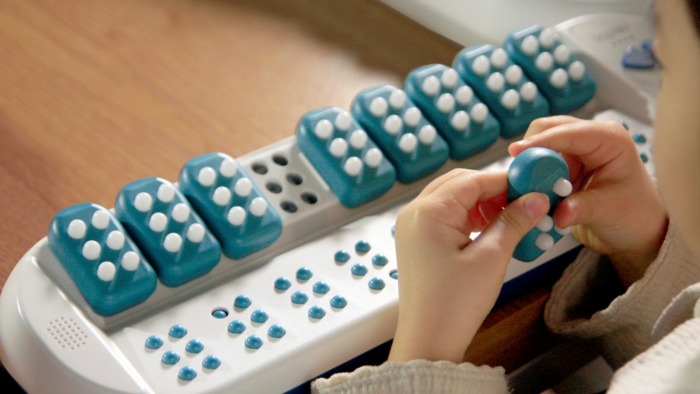 "I did not know braille previously and with the help of Taptilo, I learned uncontracted braille in less than a week," he said. "Taptilo looks sort of like a kids' toy, but in my experience, it is very effective for all ages. I really like the feel of the braille blocks it uses, and it has games and other options to test braille skills and spelling out words. I did not expect to learn uncontracted braille this quickly and easily, so major props to Taptilo."
Allee's aforementioned experience matches those of many consumers who opt for device demonstrations. But they don't always find success right away, which makes the trial-and-error process of the demo and loan program so necessary and helpful — as it was for the following consumer with whom Allee worked.
"I met with a woman who just began losing her sight. When we first spoke, she was mostly interested in magnifiers and CCTVs, but as each day passed, her vision became worse. I did a demo of the magnifiers and a CCTV, but they did not help her much. Her visual impairment came on very fast. I also brought a LyriQ Assistive Text-to-Speech Reader device just in case the CCTV didn't do the job. She absolutely loved the LyriQ. She kept putting different mail and letters under it and was fascinated that it would read the text out loud to her. Losing her ability to read so suddenly was hard on her, but the LyriQ gave her hope and the ability to read her mail and other text documents."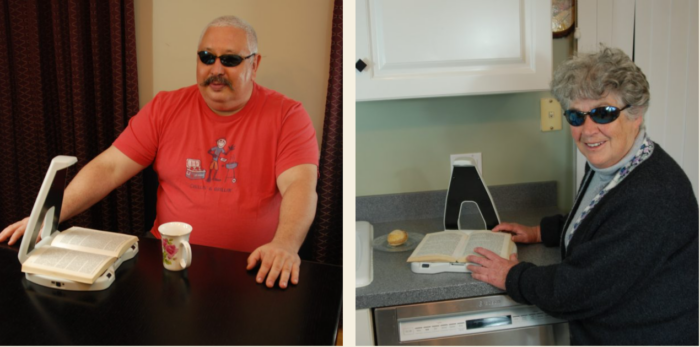 Brian Norton, director of assistive technology at Easterseals Crossroads, added: "Being able to test things out and see what works and what doesn't is a great learning experience, not just for them but for us as well. It helps us refine our device selection skills and narrow down the list of potentially helpful technology out there for people. There's so much out there, and everyone is different in terms of what technology suits them. The refining of the trial-and-error process creates more opportunities that turn demonstrations into loans or even purchases."
Loaning Out Lifechangers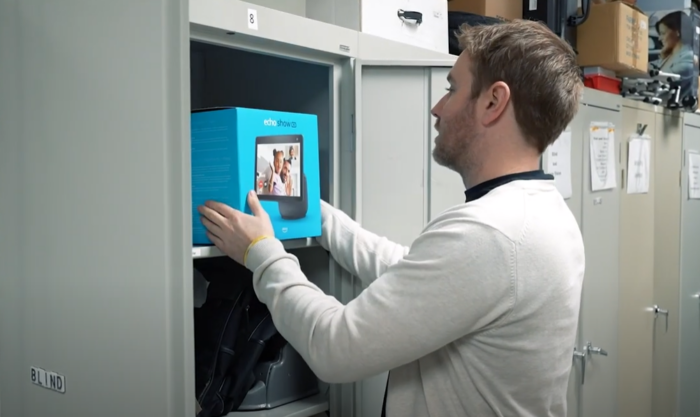 After a demonstration, even just 30 days of borrowing a device can make a world of difference for people.
"I recently loaned out a six-foot ramp to a man who was injured and will now be in a wheelchair for a few months," Allee said. "The stairs up to his front door were pretty steep with lots of steps. To have someone push or pull him up the stairs each time would be quite a hassle and not probable for someone without much strength. It may not seem like a huge deal, but this ramp will do wonders for his current situation."
People with disabilities and/or their parents, teachers, therapists, etc. can initiate a device loan by completing an online AT loan application through the lending library.
"By learning about how these devices help people with disabilities and working with them hands on, we aim to make our world more accessible to and inclusive of everyone," Norton said. "Holding these devices in our hands and demonstrating them to people face to face brings us all together."