We originally wrote about GlassOuse back in 2018.  Now there is a newer model: GlassOuse Pro.  GlassOuse Pro is a customizable assistive wireless mouse that enables individuals with limited mobility, partial limbs, and more, to operate their phones, tablets, computers, etc.
GlassOuse Pro was developed with customer participation.  The company collected user needs based on actual demand and transformed them into product functions.
There are a few different modes:
Mouse mode: you can control your mouse by moving your head 
Switch mode: allows you to control your smart devices by moving any part of the body
Joystick mode: turns your GlassOuse Pro device into a customizable gaming controller with a head mouse and adaptive switches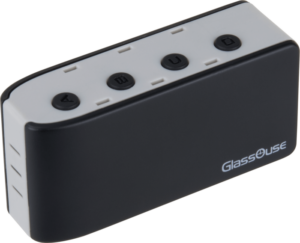 A neat feature about this device is that you can "easily switch between devices by yourself by using assistive switch."  
Other features include:
You can customize the functionality of your individual GlassOuse buttons through the APP

Automatically saves the settings of each device

You can adjust the sensitivity of the X- and Y-axis 

There are six wearable accessories available to suit your unique needs and nine different clicks of its G-switches

Ideal for individuals with:

Cerebral palsy

Spinal cord injury 

Traumatic brain injury

Multiple sclerosis

Spinal muscular atrophy

Amputation

And more
Click here to learn more!