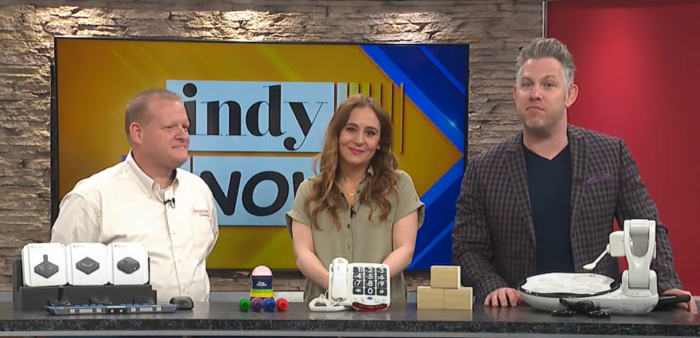 The start of this month marked National Assistive Technology Awareness Day, and as Easterseals Crossroads' Director of Assistive Technology Brian Norton suggested in a recent WISH-TV segment, it only grows worthier of celebration each year.
As Life.Style.Live! host George Mallet said during the segment, "These technologies are getting better, and for people with disabilities, life is arguably also getting better." Norton argues that it is, indeed.
"We're seeing a huge turn in the tide right now with bigger tech companies building accessibility into their products and making them easier to use for consumers of all levels of ability," he said.
Assistive Tools Don't Have to Be High-Tech
With virtual assistants and advanced robotics, our world is starting to look more and more like the futuristic sci-fi movies we grew up watching. But as Norton said in a recent Indy Now segment, it's important to remember that "not all assistive technology has to be some expensive gadget."
"Easterseals Crossroads has been promoting independence for folks with disabilities for 80 years, so tools for independent living have changed quite a bit," he said. "But some of the lowest-tech items are still tried and true today. So, we want to raise awareness that assistive technology is all around us."
He points to the following low-tech items as examples of simple tools that can make a significant impact.
Blocks of Wood: These can be useful in raising work desks for people who use wheelchairs.
Crayola Total Tools Mega Markers: These large, attachable grips allow people with limited dexterity and fine motor control to better handle markers and other writing utensils, thus increasing their confidence and independence in the classroom or workplace.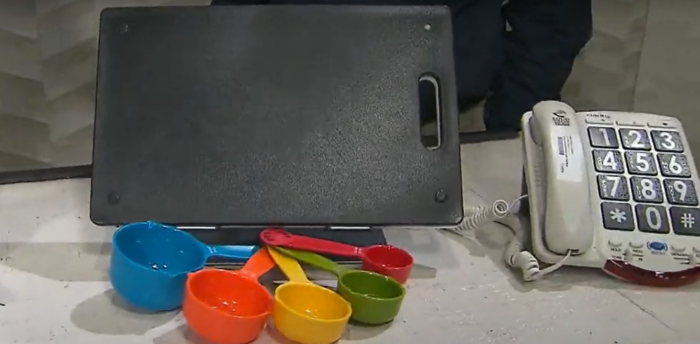 High-Contrast Cutting Board: This is a particularly good example of an everyday item you might not think of as "assistive technology," but it definitely matches the definition. For those with low vision who may have trouble seeing what they're chopping up for dinner, this cutting board's black and white sides provide contrast to help them differentiate between foods. Cut a white onion on the black side, and flip over to the white side when it's time to chop the tomato.
Colored Measuring Cups: This is another great item for people with visual impairment, as it allows them to rely on bright colors rather than measurements in fine print. And while a simple piece of plastic used to hold cooking ingredients may not seem like what you'd call "technology," it is exactly that.
Big Button Amplified Phone: This helps people with both low vision and hearing loss, as its large, high-contrast buttons are easier to see, and it provides up to 37 decibels of amplification, making callers' voices not only louder but clearer.
The Way of the Future
Now, onto the high-tech stuff. One of the first devices you see when you enter INDATA's assistive technology lab is the Obi, a robotic feeding device for people with upper extremity impairment. With its robotic arm that smoothly scoops up food, it looks like a device straight out of Steven Spielberg's A.I. Artificial Intelligence. But it came from humble beginnings and looked more like one of the aforementioned low-tech items in its prototype phase.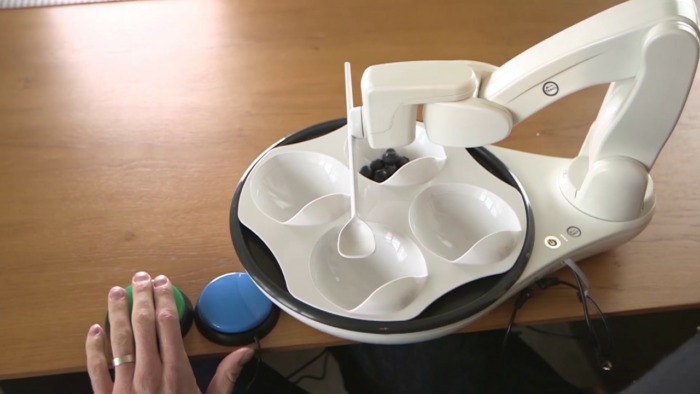 Like most items you'll find in INDATA's lending library, Obi has an inspiring story behind it, coming out of co-founder Jon Dekar's experience watching his grandfather struggle to eat and then building an Obi prototype made out of wood, rubber bands and Legos, among other basic materials.
As Norton said on WISH-TV, big tech companies are essentially following in Dekar's footsteps, paying attention to the challenges their older generations of consumers are facing and tailoring technology toward them.
"Baby Boomers are getting older, and they're developing vision impairment and hearing loss along with mobility, intellectual and cognitive needs," Norton said. "In turn, big tech companies like Amazon, Apple, Google and Microsoft are engaging with inclusive design and incorporating accessibility and adaptive accessories into the development of their products."
Some examples of more recent adaptive accessories include: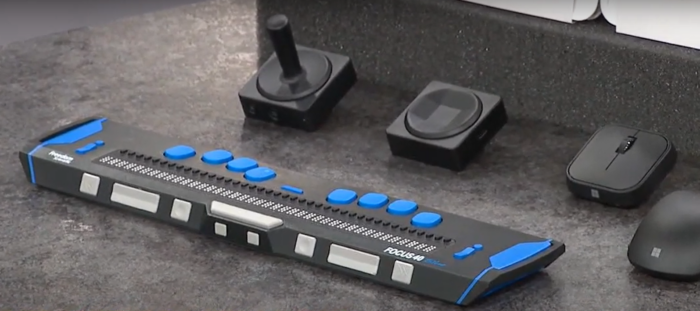 The Focus 40 Blue Refreshable Braille Display: Essentially a Braille keyboard, this Bluetooth-enabled device allows users to connect to iOS Android devices such as smartphones, iPads and tablets.
The Xbox Adaptive Controller: Designed for gamers with limited mobility, this device allows users to connect switches, buttons, joysticks and mounts to the controller to create a customized gaming experience tailored toward their needs and abilities.
These are just a few of the items you can currently find in INDATA's massive lending library, showing that this organization is always aware of the latest and greatest devices in the ever-growing field of assistive technology.