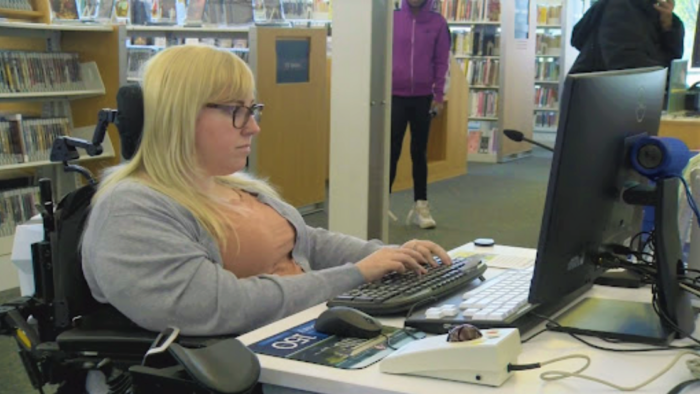 Like so many other cities in America and across the globe, the COVID-19 pandemic left Indianapolis facing an unclear future. During the peak of this crisis, technology was our key to an increasingly closed-off world. To carve out a smooth path forward for Hoosiers of various backgrounds, The Indianapolis Public Library and Easterseals Crossroads are partnering to ensure improved access to technology by installing accessible workstations at all 24 Library locations throughout Indianapolis, Lawrence and Beech Grove.
This project is part of The Library's Strategic Plan for 2021-2023. As it states: "An informed community, where a child's first library card opens the door to a world without limits, will help to ensure that Indianapolis will rise from the challenges of 2020's uncertainty and embrace the opportunities ahead with great confidence."
Opportunities for All Abilities
The accessible workstations are part of The Library's Digital Inclusion Roadmap, which it drew out based on interviews with community partners and brainstorming sessions with a staff advisory panel.
"The outcome was a clear roadmap goal: Ensure the technology we offer and digital materials we lend can be used successfully by people with a wide range of abilities," said Marianne McKenzie, Supervisor, Digital Inclusion. "The expansion of accessible technology workstations arose from staff feedback around equitable access. They observed the need for this resource in their branch, noting only two workstations in the library system."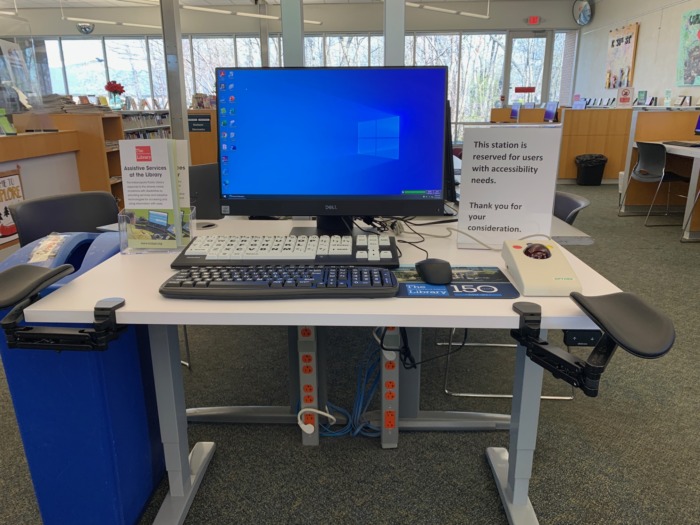 While the Central and Glendale Branches have rooms dedicated to accessible workstations, this new initiative improves inclusion by placing these workstations out in the open, among all Library patrons. This is beneficial in reinforcing the idea that not all disabilities are obvious or visible and in welcoming people with disabilities to work among the public.
"We hope to increase the confidence of all of our patrons in using technology independently and to enhance their quality of life," said Shanika Heyward, director of innovation and technology at The Indianapolis Public Library.
The workstations were developed through a comprehensive review process.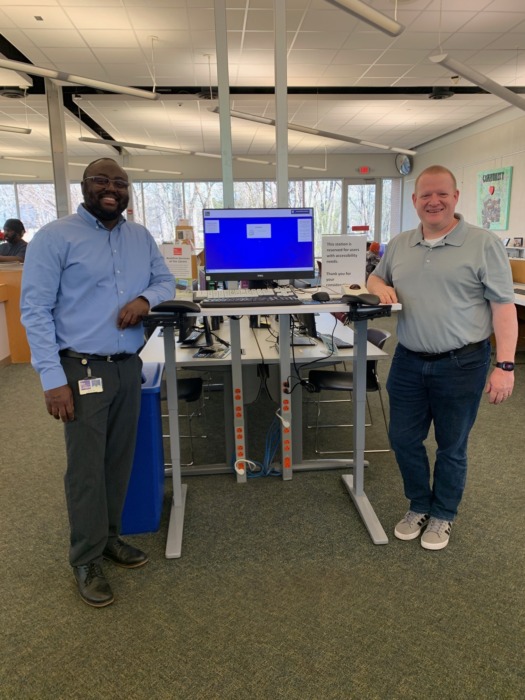 "The framework for the accessible workstations took shape through site visits, conversations and online surveys with Library staff," said Brian Norton, director of assistive technology at Easterseals Crossroads. "The strategy was to use a small amount of technology to meet the majority of patron needs. This includes needs for vision, mobility, intellectual/cognitive and hearing impairments as well as language barriers. Built-in durable tools, devices and apps make the workstations user-friendly, intuitive and sustainable."
What to Expect at the Workstations
The design of the workstations aims to make people with various disabilities instantly feel comfortable when they approach them.
Mobility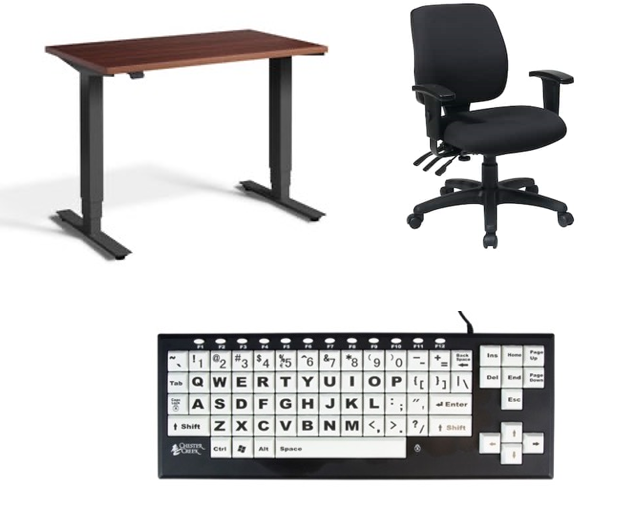 With a hydraulic, height-adjustable desk, the workstation immediately accommodates people using wheelchairs or other mobility devices.
Adjustable, articulating arm supports assist people with fine motor control or fatigue issues due to multiple sclerosis, stroke, or repetitive stress injuries, such as carpal tunnel.
During a demo of a workstation at the East 38th Street branch, Norton said, "We've already seen people who've had strokes use the station and benefit greatly from it."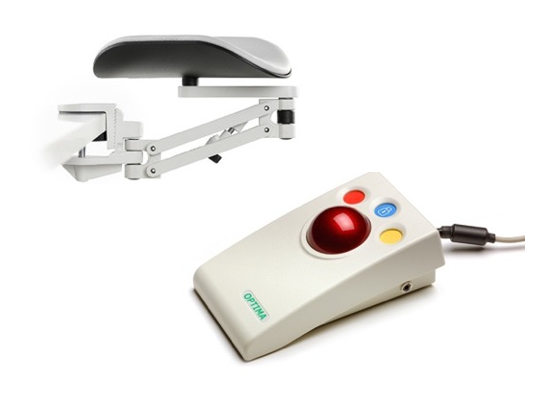 A trackball mouse with programmable buttons helps users with limited dexterity or range of motion move the cursor across the screen and click on or drag items.
Vision
For people with low vision, the BigBlu Vision Keyboard has keys that are 250 percent larger than standard keyboards. The high contrast of black letters on white keys reduces eye strain. Of course, the computer has high-contrast screen settings as well.
In addition to Windows' built-in screen magnifier, the desktop computer is equipped with speech recognition software, which enables hands-free voice control of the computer. The desktop also has Non-Visual Display Access, an open-source screen reader.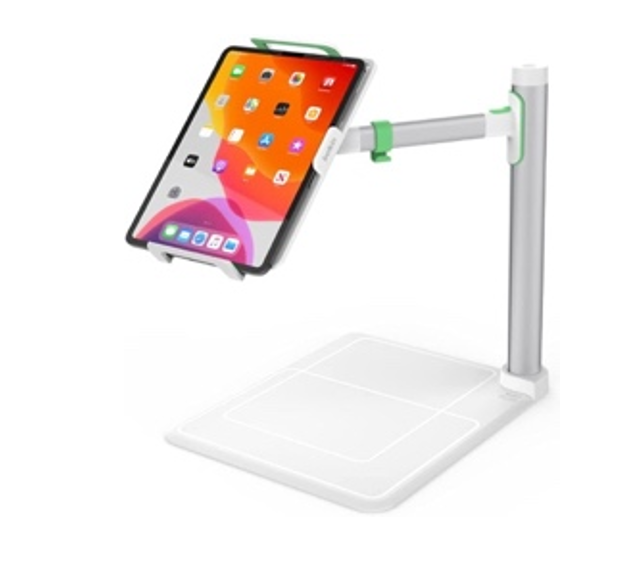 The workstation comes with a stand for an Android Galaxy tablet, which can serve as a magnifying device for reading and viewing items around the library.
Hearing
In addition to the Sound Amplifier app, the tablet comes with Live Transcribe, which captures speech and sound and allows users to see both captioned on the screen.
What Lies Ahead
These are just a few of the workstations' many features. To avoid overwhelming users and give them a starting point, each desktop has a guide pointing Library patrons to helpful tools and apps for reading, writing, math, note-taking, hearing and vision.
These tools can "read" information to patrons and respond to voice commands; and help people with learning disabilities or mobility limitations complete tasks such as writing a document or accessing the internet.
Accessible workstations are currently available at the Eagle, East 38th Street, East Washington, Garfield Park and West Perry locations — with shorter use periods than other stations to decrease wait times. More will be rolled out and installed at all 24 Library locations over the next several months.
"The Library and Easterseals Crossroads are kindred spirits in the sense that both organizations are all about connecting people with resources and creating a level playing field for the community," Norton said. "Being able to see accessible workstations in libraries among all the other tools for people from all walks of life is the ultimate vision of inclusion."