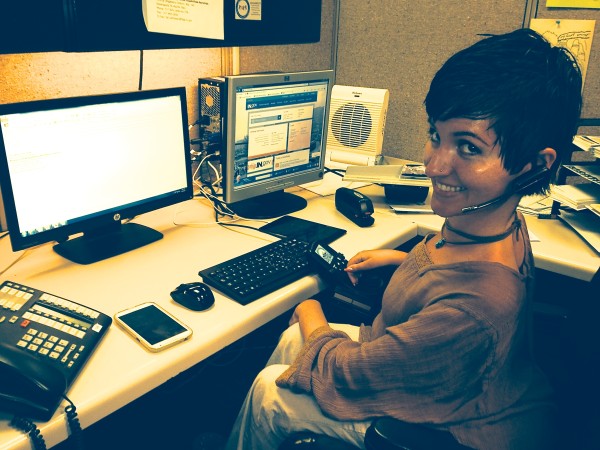 Terri Whitaker is a vibrant, young lady who always puts her best fashion foot forward. I have worked on a couple of projects with Terri and she has such a positive energy and is always such a joy to be around! I recently visited Terri to talk to her about her current position that she started this year and to learn about the assistive technology she uses at work.
Terri currently works as a Generalist at the Bureau of Developmental Disability Services (BDDS) . This is a state agency that provides services to people in the state of Indiana who have developmental disabilities. The goal of the agency is to help people obtain community support and/or residential services to live as independently as they possible can in the community.
Terri works in the intake department assisting people in establishing eligibility for BDDS services. The services that BDDS provides are home placement, Medicaid waiver services and CIFA. Her job is to educate employers and families about community resources to assist their employee or family member in finding solutions for their challenges so they can live independently. She helps them learn about resources in their area and the agency focuses on reaching folks in outlying areas that may have limited resources. The goal is to educate and reach educators and parents of school age students (preferably as young as elementary school) about helpful resources so their student/family members are prepared to be independent when they are adults.
Terri has muscular dystrophy. Muscular dystrophy is an inherited disorder that involves muscle weakness and loss of muscle tissue. The damaged muscles become progressively weaker over time. Terri has the use of her upper body, but struggles with lifting items. Due to the muscle weakness in her lower body, Terri uses a wheelchair for mobility.  She has a powered wheelchair that reclines with a footrest that moves upward to relieve pressure and swelling when sitting for long periods of time. Terri indicates that being able to recline and move the footrest to change positions allows her to be able to work a full day without additional strain on her body.
Terri received her bachelor's degree in social work from Ball State University in 2008. She then worked for 5 years for accessABILITY , which is one of the center for independent living agencies in Indiana, as an advocate. This agency serves people in central Indiana.
When Terri began working after graduating college, she was referred to Easter Seals Crossroads (ESC) for an Assistive Technology evaluation. She had an evaluation with Brian Norton, Manager of Clinical Assistive Technology at ESC, and has worked with him for years to make her work environment accessible. When Terri began her current position at BDDS, Brian came out to evaluate how to make her new workstation accessible for her. The assistive technology solutions included a bluetooth headset so she could answer the telephone handsfree and Dragon Dictate, which is a voice recognition software that allows you to dictate and edit documents, send emails and transcribe voice memos by verbal commands. Terri uses this to verbally dictate her database entries and writing assessments. They also came up with a few low-tech assistive technology devices that make her job a little easier such as an electrical stapler, an automatic envelope opener and a file folder that hangs on the side of her cubicle that makes additional storage accessible to her. She also uses an iPad for in-person interviews. The iPad is more accessible because it is lighter than a laptop and the touch screen is easier for her to use. Terri also puts things within her reach. She took a set of drawers out of her desk so she could maneuver underneath and added handles that were easier for her to pull her drawers open.
Terri also has a personal care assistant (PCA) that comes to work with her and another PCA who spends the night to address any needs she has at night. The PCA on the job will help her with time consuming activities such as filing, mailings and scanning faxes. She also assists her with getting her lunch and going to the restroom.
Terri uses IndyGo open door services for transportation. At home she uses many assistive technology solutions such as using transmitter boxes that were intended for use with Christmas lights. These transmitter boxes have a remote to run a power outlet. Terri has them attached to electrical door openers so she can open all of her doors by the touch of a remote. She also has a service dog that she has had for 3 years. She told me that it was a 2 week learning process when she first got her dog to learn the general commands and then it was a 6 month process of them getting to know each other and begin to work well together. The service dog picks up things that Terri cannot reach. The service dog can open doors for her and can bark to call for her personal aide that spends the night. If the service aide does not hear Terri call for her, the service dog will go and nudge the aide to wake her up to attend to Terri's needs. Terri has also modified her home to accommodate her needs. She made the bathroom larger with a wheel-in shower and a floating sink so she could get under the sink in her chair. She also has a fridge with water and ice on the outside door so she is able to get her own drink.
Terri discussed the accommodations she had in college. When she was at Ball State University she had accommodations in the classroom such as notetakers, scribes for tests and extended time to take a test. Her dorm room was accessible and they had accessible bus service on campus. She recommends that anyone who has a disability and is looking at a college should meet with the disability services on that campus to determine what services are available. She advises asking for someone on campus who has a similar disability to give a tour of the campus. She asked for a wheelchair user to assist her in her tour. This student showed her how to use the bus, the accessible features of the dorms and where all the accessible entrances were for all the buildings.
Terri's biggest struggle is her endurance and assistive technology helps her reduce the exertion of her energy so she has the stamina to get through her work day. Terri expresses how happy she has been with all the assistance she has received from the assistive technology department at Easter Seals Crossroads. "Brian is so personable. He is so nice to have around because he is laid back and that relaxes you when you are trying to figure out how to accommodate the job".
Terri is also very pleased that assistive technology is becoming mainstream. Mainstream things such as accessible touch screen phones and iPads that allow quick and easy access has really increased accessibility at work and in her personal life. The assistive technology that Terri is most interested in watching the development of right now is self-driving cars. This is the technology that she would be most excited to see become mainstream in her lifetime. She would love the freedom to get in a car and not be dependent on anyone to take her somewhere. "I would love to be able to spontaneously travel". Terri does have an accessible wheelchair van and currently she has a retired neighbor drive her to work. She has enjoyed not having to be completely dependent on open door for transportation, but would love the freedom to hop in a car and go where she wanted whenever she wanted.
Terri advises anyone who has challenges to make use of the resources available. There are many resources available to assist someone to live and work independently such as the assistive technology department at ESC. She says it is important to really investigate all of your options and resources and self-advocate for your needs.