Ho…Ho…Ho!  Santa Claus will be coming to town in just 15 days!  (Where has the time gone?!)  If you haven't finished your holiday shopping for your child with (or without) special needs, be sure to check out my 3 featured blogs for some excellent gift ideas:
My goal when compiling these lists is to get children away from their smart devices so they can interact with more hands-on activities.  The best part of all is that all of these lists consist of toys $30 and under!  For today's blog, I researched different toys for individuals with sensory integration disorder, a common symptom of autism.
7 Toys for Sensory Integration/Autism
"If you have given a present and found that the kids play more with the box or, like me, have despaired at spending Christmas Day watching the children use the tubes from the tinfoil and wrapping paper as swords, whilst ignoring all their carefully selected, non-violent toys, the perfect present has arrived.  Say hello to Bilibo."
Made of high density polyethylene making it:

Shock-resistant
Weather-proof
Food safe
Completely recyclable

Open ended play at home, park, beach, water, in the snow, etc.
Iconic shell shape available in 8 bright colors
Arouses curiosity, stimulates senses, engages imagination, encourages creativity.
"Squigz are fun little suckers! They flex.  They stick.  They suck people into creativity."  The fun begins when you apply pressure to two Squigz.  Each Squig piece connects to any solid, each other, and non-porous surfaces.
Pieces connect and pop apart

According to multiple reviews, when the Squigz pop apart, the sound is very satisfying and minimal.

Provides relaxation and sensory stimulation
Encourages creativity, fine motor skills, interaction, playful experimentation
High quality silicone rubber
8 different shapes
Leaves no residue or marks on surfaces
Can be enjoyed by all ages!
Okay so eating utensils aren't necessarily toys… but these fun guys are totally awesome so I had to write about them.  This set of three utensils turns mealtime into a fun playtime activity, making it easier for kiddos to try new foods.
Designed like construction machines
Encourages healthy eating habits and fine motor skills
Bulldozer Pusher makes piling food into place easy
Forklift Fork and Front Loader Spoon make maneuvering food fun
Easy grip handles are easy to hold
Fully safety tested, FDA Approved, BPA free, Phthalate free, lead free
Dishwasher safe
"The most tantalizing, mesmerizing mass of gelatinous dough you'll ever see or pleasure in handling."  This putty is unlike any other putty found on the market as it is super-smooth and doesn't stick to your hands.  A parent of a child with autism reviewed the product: "Texture is great for sensory issues–very dry to touch–not wet feeling like other putty products.  Can mold it or just pull apart and will eventually ooze back into original form.  Very highly recommend for fine motor skills."
Builds hand strength and improves fine motor skills
Provides relaxation, reduces stress and anxiety
Verified to remain non-sticky and taffy-like even when left out of the tin for months
Available in:

Frontal Lobe Fuchsia
Glow-in-the-Dark Ganglia
Brain Stem Blue
Cranial Copper

Inert, non-toxic and safe
Contains no latex or wheat compounds
Warning: May stain some fabrics, carpet, etc.
"Remarkably, Kinetic Sand moves by itself as you work with it.  It continually rearranges itself.  Squeeze it, shape it, build something small, build something big."  Kinetic Sand soothes and engages both children and adults in schools, at work, in therapy, or at home!
Indoor play sand with properties of motion
Different from traditional sand play because the sand moves
Enhances sensory awareness, fine motor skills, and creativity
Great for sensory issues and therapy use
No mess, designed for indoor play
98% real sand covered in a 2% non-toxic binding agent
Never dries out
Non-toxic and gluten-free
The 3D Feel & Find bag is a reusable, durable cloth bag consisting of 20 matching wooden shapes and printed tiles.  This is a fun visual and tactile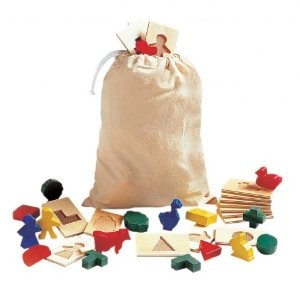 exercise for children to play with alone or in larger groups!
Deal out the tiles and have children reach into the bag to find the corresponding wooden shape.
Comes with: cloth bag, hardboard tiles, hardwood shapes
Can be made more simple or complex according to how many pieces you place in the bag.
Great tactile discrimination activity for all ages
Plus Plus Mini is a fun building block-like activity for children of all ages.  The blocks are constructed with a subtle rubbery texture helping them to interlock easier.
Minimalist plastic construction toys with maximum design potential
Easy-glide interlocking function
Special rubbery texture exterior
Colorful creations hold together well for display
Mini size ideal for older children and adults
Includes 300 pieces
Fun for a wide range of ages!