Last spring, I wrote a featured blog covering five different ergonomic keyboards.  For individuals who spend a lot of time on a computer, it's essential to maintain an ergonomic posture.  Aside from a standing workstation or desk, another great way to maintain an ergonomic posture is by using an ergonomic keyboard and mouse.  Whaaaaat about an ergonomic keyboard and mouse all-in-one?! Introducing… KeyMouse!
So why should you use an ergonomic keyboard and mouse?  As I stated on a previous blog, "Awkward typing postures can result in ulnar deviation and pronation, or the horizontal and vertical bending of the wrists.  The stressed compression of the nerves in the wrists contribute to developing disorders like carpal tunnel syndrome."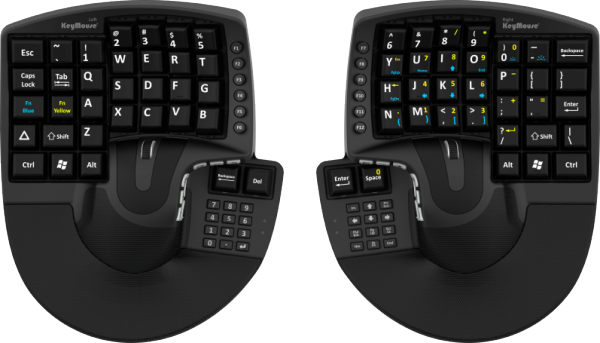 KeyMouse Overview:
Keyboard and mouse combined!
Keep your hands in typing position while using the mouse.
Connects via high-speed Bluetooth and USB.
Features the popular Cherry MX Brown switches for a "great tactile feel when typing."
Designed for efficiency, customizability and comfort.
Curved key surface keeps all keys within reach.
Rubber palm rest for better grip and nice feel.
High-resolution laser mouse sensor under both left and right KeyMouse.
Includes KeyMouse software with loads of features to enhance each user's experience.

Fully customizable software and can be set up with many different profiles to easily switch between saved key layouts.

Compatible with Windows, Mac and Linux.
The KeyMouse is currently in the manufacturing process but you can pre-order yours for $399.00 here!