My entire life I have loved absolutely everything grammar: writing,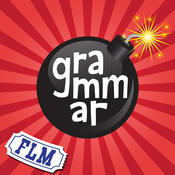 spelling, punctuation, nouns, prepositions–all of it!  Sadly, I understand learning grammar isn't as exciting and easy for several individuals.  Developers at Fairlady Media believe that grammar can and should be fun!  Their Smashing Grammar app allows players to have a "smashing" time "blasting, bombing, demolishing, and pulverizing their way through six exciting worlds of grammar enlightenment!"
According to Geeks with Juniors, Smashing Grammar is noted to "excite even the most reluctant learner."  The app teaches many concepts of grammar in six different activities (which are listed below.)
Smashing Grammar App Features:
Individuals will learn nouns, verbs, syllables, spelling, verb tense, and plurals.
Nouns and verbs are presented in the context of a sentence.
The app allows individuals to improve their reading fluency.
Players will learn thousands of vocabulary/spelling words.
Fun graphics and sound effects.
6 Smashing Grammar activities:

Noun Disco: "Steady on, old chap, this is no time for a spot of tea.  Break as many records as you can!"
Verb Garden: "Do you have a green thumb?  Love watermelons?  You'll have a jolly good time in the verb garden!"
Syllable Spaghetti: "Quick!  How many syllables are in the word spaghetti?"
Spelling Slumber Party: "Just like a real slumber party except you won't feel knackered – you'll be too busy spelling and getting smacked by pillows!"
Tense in Paradise: "You had fun, you are having fun, you will have fun."
Plural Piggies: "Get your knickers in a twist, but don't get confused by all the plural piggies!"
The app is available to download now on iTunes.