What an exciting week here for the INDATA Project at Easter Seals Crossroads!  Apple has just released iOS 10 this week, which is jam packed with new accessibility features.  Monday afternoon, I was invited to sit in on interviews for local news channels to try out and discuss these incredible features.  Keep on reading to find out what they are and see if they may benefit you or a loved one!
Since its initial release back in 2007, the iPhone has already improved its accessibility overall.  However, in terms of accessibility, there is always room for improvement.  I dare say in iOS 10, Apple has certainly provided more accessibility features than in previous updates.
iOS 10 Accessibility Features:
1. Raise to Wake:
Many smartphones on the market already activate the lock screen once an individual lifts his or her phone up.  Now, iPhone users will be able to activate the lock screen by simply raising their phones.  This will benefit several individuals who find pressing the physical button rather challenging.  You'll also be able to unlock the screen by pressing the Home button instead of having to swipe.
2. Visual Voicemail:
Okay, so this feature is going to be huge for individuals who are deaf or hard-of-hearing.  If the user's carrier is supported, a transcription for each voicemail can be provided.  This feature is still in its early beta stages so it may not be perfectly transcribed, but the gist of the message should be presented in writing.  You'll be able to view the transcripts directly under the Phone > Voicemail app.
Since it is still in its early stages, the Visual Voicemail may not yet be available to you.  Check with your carrier to see if the option is available to you.  If so, it will automatically be present in the built-in Phone app.
Open the Phone app on your iPhone.
Tap Voicemail in the bottom righthand corner of the screen.
Select desired voicemail message and the transcript will be available immediately below.
3. Magnifier:
This feature is the one I am probably most excited about in iOS 10.  Even though I personally do not have low vision, I know the new built-in Magnifier will benefit so many individuals.  Over the years, I have researched and written about countless apps to benefit individuals with low vision.  However, many of these provide very limited magnification and features, and can tend to be rather expensive!  Now by simply triple-clicking on the Home button, users will be able to access the Magnifier.
To enable the Magnifier feature:
Open the Settings app.
Select General > Accessibility.
Tap on Magnifier.
Toggle the Magnifier and Auto-Brightness settings to the ON position.
Now whenever you need the Magnifier, simply triple-click the Home button!
This feature will allow individuals to quickly view food labels, menus, and much more!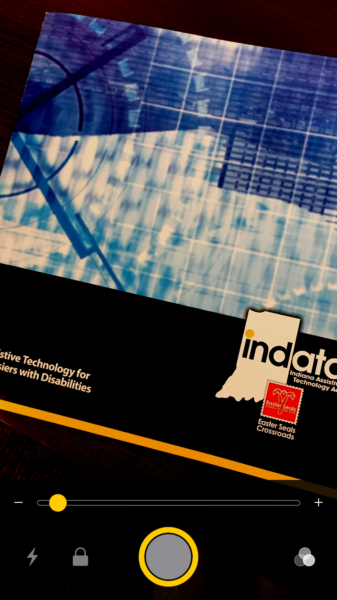 But wait!  There's more!  Another neat feature found within the Magnifier app can be found by selecting the three circles on the bottom right.  Here, you'll be able to quickly and easily swipe through several filters to adjust the contrast of text.  Amazing!
4. Color Filters:
The new Color Filters option is going to make viewing the screen a lot easier on the eyes.  It is also a great feature for individuals who are colorblind.  To access go to General > Accessibility > Display Accommodations > Color Filters.  
Here, you'll be provided with a list of different options.  The Grayscale option has also been moved here along with several new options.  Now you'll be able to swap colors, which is ideal for those with colorblindness.  There is also a "Color Tint" option, which is comparable to Night Shift which turns your screen orangey.  However, instead of turning your screen orange, you'll be able to select the color hue as well as its intensity.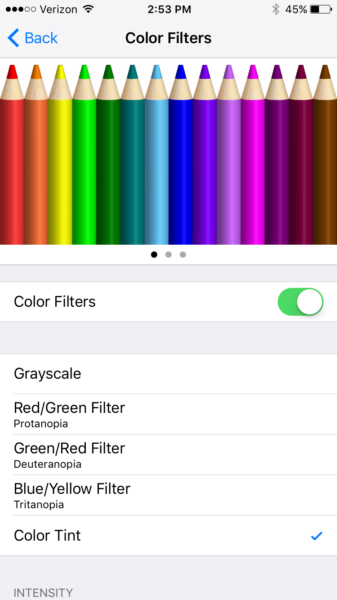 5. Software TTY:
Apple already supports hardware TTY devices for those with hearing impairments, but now iOS 10 supports software TTY.  Now that it doesn't require any additional hardware, users can place calls to non-TTY numbers through their carrier.  The app also offers TTY-specific QuickType predictions.
6. One-swipe to clear notifications:
This may seem like a small feature, but if you have poor dexterity and struggle with clearing each and every notification, this new one-swipe feature can make the iPhone interface a lot more user-friendly and efficient.  I am all about having more control of my devices with less motion!
7. Object and face recognition added to Photos:
Apple refers to the new object and face recognition features in Photos as "advanced computer vision."  According to AppleInsider, with this feature, the contents of photos will be analyzed by using local processor power and various "deep learning" techniques.
For example, there will be a "People" section under the Albums tab, and you'll be able to select a name to see every photo with that person in it!
8. Siri can be accessed by developers:
What does this mean in terms of accessibility?  Prior to this update, Siri was solely built-in to help you access certain tasks on your phone.  Now that app developers will be able to integrate Siri into their apps, they'll be able to add voice control.
9. Messages:
The new version of the built-in Messages app has a few new enhancements that have already simplified my social life, so I hope they'll benefit you too!  In sum, "The new version includes emoji-related enhancements, dynamic text bubbles, and rich links with images automatically integrated into chats."
The "deep learning" on the keyboard will make responding to texts a lot easier.  For instance, if a friend asks you, "What do you want for dinner tonight?  Chicken or fish?"  "Chicken," "Fish," and "Not sure," will appear as options.  It'll also offer the corresponding emoji too (I'm all about emojis and animating my conversations!)
10. New widget:
The lock screen will also provide users quick access to time sensitive information with less interaction than before.  So to access this new widget, simply swipe left.  You'll be able to respond to messages and receive data from apps without needing to unlock your device.  Additional note: the camera will now be accessible by swiping right instead of up.  This makes it a lot easier to access!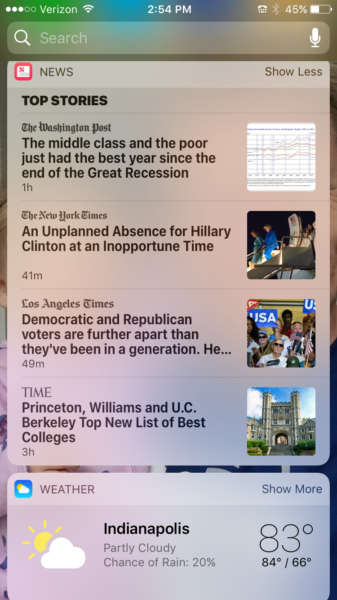 You'll also notice the Notifications have been redesigned, with clearer bubbles containing timestamps and the source of that notification.
What are your favorite new features in iOS 10?