Tablets and other mobile devices have proven to be useful assistive technologies for countless individuals.  However, these devices often need to be mounted for several individuals to use them.  If you or a loved one are searching for a wheelchair mount, check out the Mount'n Mover.  The Mount'n Mover is a versatile and accessible wheelchair mounting system that can be customized and changed, according to each user's unique needs!
The Mount'n Mover has been around for a few years now, but they've recently updated many of its features such as the overall appearance and flexibility.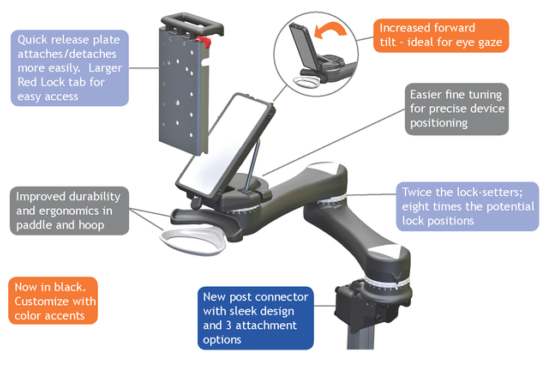 New and improved features of Mount'n Mover include:
Twice the custom lock positions from 12-24 per joint.  Provides 8 times the options for optimal positioning.
Increased forward tilt of the tilt-plate to offer a slight downward positioning of the device for eye-gaze communicators.
Fine tuning adjustment at the device for easier eye-gaze calibration and infinite positioning.
The Quick Release Plate is easier to attach and detach and glides more smoothly onto the tilt-plate.
Improved ergonomic design of hoop and paddle.  Stronger thus less likely to break, deform or wear down.
New Link Cube has a protected clasp, rounded corners, and 3 attachment options.
Now available in black.  You can even customize with fun color accents for a limited time!
If you are looking to connect the Mount'n Mover to something other than a wheelchair, it'll also connect to solid bases such as a table or floor stand.  If you do want to connect it to a wheelchair, the company's website provides a long list of wheelchair brands and models that it supports.
Visit the Mount'n Mover website to learn more.