Visual scheduling and checklist apps have proven to be effective resources for individuals with autism, cognitive disabilities, and more.  The Reminder, Alarm and Voice Reminders, Remind Me App is a powerful, all-in-one app available for free* on the App Store.
Because this Reminder app features a simple, user-friendly interface, it's an ideal tool for individuals of all abilities.  The reminders are fully configurable, and can feature user's favorite songs or even voice recordings!  The app allows users to set up multiple types of reminders such as:
Pre-alarms: an alarm prior to the actual due date
Auto-snooze: allows the alarm to repeat at regular intervals (e.g. 1 minute, 10 minutes, 30 minutes, etc.) until you take action
Snooze: you can snooze a reminder or mark it as done directly from the lock screen or notification banner
Reschedule: shows a new time and date in the future
Custom messages, sounds, and images: adding custom images, sounds, and messages make it easier to identify the necessary task
And more!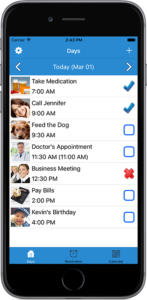 Features of the Remind Me App:
Full VoiceOver accessibility support
No internet connection required
App doesn't need to be open to receive notifications
One tap turns individual reminders on or off
Option to pause all reminders when you don't want to be disturbed
Backup and restore reminders on same device or multiple devices
More than 80 built-in images
30 built-in alarm sounds
Universal App, full native support for iPhone, iPad, and iPod Touch
*Free to download, but free version allows users to only set 3 reminders.

Paid version allows unlimited reminders and is available for $1.99 as an in-app purchase.