After Amazon Echo's raging success over the past few years, many tech companies are creating their very own smart speaker home assistants.  Google's version of the home assistant was introduced near the end of last year.  Now, Apple has finally introduced their own smart speaker: the HomePod.
Apple describes their new product as follows:
HomePod is a powerful speaker that sounds amazing, adapts to wherever it's playing, and together with Apple Music, gives you effortless access to one of the world's largest music catalogs…
The HomePod speaker is voice activated when the user states, "Hey, Siri…"  The nearly seven-inch tall speaker is wrapped in a seamless mesh fabric designed for both aesthetic and acoustic performance.  It is also smart enough to sense where in the room it's playing, so it automatically analyzes the acoustics, adjusts the sound based on speaker's location, and steers music in the optimal direction.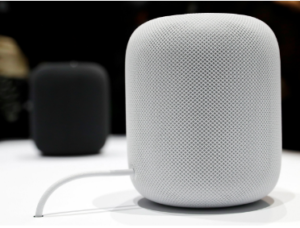 In addition to playing over 40 million songs, HomePod can also help with everyday household questions and tasks!  With Siri's integration on the speaker, users can effortlessly request:
Timers
Clocks
Measurements
News
Weather
Traffic
General knowledge
And much more
At the INDATA Project, we're all about smart home options!  While we love jammin' to great music, we also love being able to control smart home appliances hands-free.  Just like other smart speakers (Amazon Echo and Google Home), HomePod is also able to interact with a variety of smart home accessories.
HomePod Features and Specs:
Measures approximately 6.8 inches high, 5.6 inches wide
Weighs about 5.5 pounds
Available in two colors
Seven beamforming tweeters precisely focus the sound, "from very narrow beams all the way to true, consistent 360º audio"
Six-microphone array for far-field Siri and room sensing
If you buy multiple HomePods, they all connect with each other through AirPlay 2 – so you can play music all around the house
Tap the top of HomePod to play, pause, or adjust the volume

The top also shows when Siri is listening, with an LED waveform that animates with the user's every word
The HomePod will be available this December.  Click here for more information.