VoiceOver is a built-in screen reader found on Apple devices.  When using VoiceOver, users can access Macintosh or iOS devices with spoken descriptions and, when using the Mac, the keyboard.  This has made the devices accessible for users with visual impairments, as well as those with dyslexia.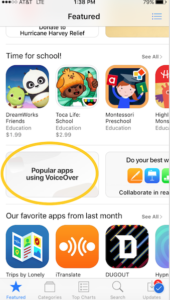 If you visit the App Store now on the iPhone, you'll find a category on the main page entitled, "Popular apps using VoiceOver" (see above image).  Instead of highlighting each of these apps, I'd like to discuss a handful for today's blog.
5 popular apps using VoiceOver:
The following list consists of only five available apps to help with productivity, navigation, and more.  To view the dozens of other apps that utilize VoiceOver, check out the section on the App Store today!
IFTTT is an easy, free way to get the most out of all your favorite apps and devices.  It consists of two parts: applets and services.  Applets bring all services together to create new, easily-accessible experiences.  Services are the apps and devices you use every day (e.g. Facebook, Nest, Dropbox, Twitter, Spotify, and more.)
Features:
Looking for a VoiceOver-friendly calendar app?  Check out Fantastical 2 for the iPhone.  It is a "fast and friendly calendar and reminders app, packed full of features to make you even more productive."
Features:
BlindSquare is an accessible navigation app.  It helps you know where you are and where you're going so you can travel with confidence.  It combines the latest technology to assist individuals who are blind in their daily lives.
Features:
RunGo is an app providing runners "the most innovative free* Running App available in the market today."  It uses state-of-the-art turn-by-turn voice directions tailored to each runner's needs.
Features:
Looking for an accessible app to help keep you updated on current events?  Look no further than Instapaper!  Instapaper is "the simplest way to save and store article for reading offline, on-the-go, anytime, anywhere."
Features:
Click here to learn more about VoiceOver and other accessibility features available on the iPhone.