BJLive! offers many products and services that "improve the quality of life of any person with disabilities."  I have previously written about their BJOY Ring Wireless Joystick as well as their Chin Mouse.  A third BJOY mouse option is the BJOY Hand-A Hand Mouse.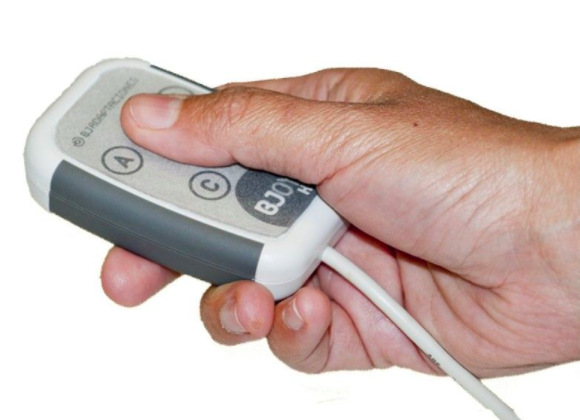 The company's initials stand for the names of the two brothers who founded it: Borja and Joaquin Romero.  According to their website, "It was a joint project they began as a result of Joaquin's personal experience as an individual with multiple sclerosis."  (Click here to learn more about the company BJLive!)
The BJOY Hand-A Hand Mouse is based on a "very sensitive analog joystick" ideal for individuals with minimal strength in their hands and fingers.  It features four small ultrasensitive buttons with customizable functions.  Just like other BJOY products, it can be tailored for the user's unique needs and capabilities.
Overview of the BJOY Hand-A Hand Mouse:
Ergonomic hand mouse designed for comfort and ease of use for individuals with minimal finger movement and strength
The mouse can be tailored to meet the user's unique needs and capabilities using BJOY Software.  With this software, you can also:

Modify the function of each button, adjust cursor speed, orientation, and "many other parameters"

Plug and play USB device that is supported by the following operating systems:

Windows
Linux
Android
Chrome OS
MacOS
iOS

The mouse stores your settings so you can use it on multiple devices
Click here to learn more about this ultrasensitive hand mouse!