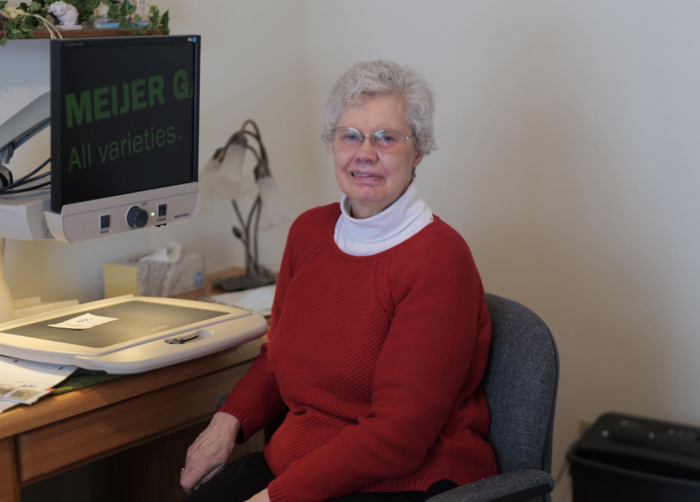 Candy Sherd was diagnosed with Vogt-Koyanagi-Harada (VKH) disease in 2006 after having spinal meningitis in 2004. VKH is a rare disorder that causes a rapid loss of vision. Knowing that she would have progressive vision loss, Candy started preparing and made large prints of things such as important documents and her favorite recipes. Candy is an avid cook and has collected years of treasured recipes. She was able to use the large printed material for a while, but her vision then declined to the point where she could not even read the large print.
She was seeing an eye doctor who referred her to the INDATA Project so she could determine what type of assistive technology could help her read printed materials. Candy was informed about our assistive technology demonstrations and equipment lending program. She learned that equipment demonstrations of assistive devices can be scheduled for free. These demos are scheduled so each participant spends 20-30 minutes with an assistive technology professional to learn the basic features of the device. These demonstrations can be scheduled in someone's home, place of employment, in the community, or at Easterseals Crossroads in Indianapolis.  She was also informed that the equipment lending library is available to anyone in the state of Indiana can borrow assistive technology for free for 30 days.
After speaking with Justin Amber, Equipment Loan Specialist, at Easterseals Crossroads, they scheduled a time for him to bring out digital handheld magnifiers and a desktop video magnifier to her home so they could determine if any of them would meet her needs. Justin showed her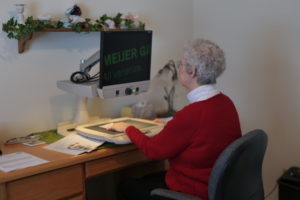 several different digital handheld magnifiers and a Merlin desktop video magnifier from the loan library.  Candy determined that the Merlin desktop was the most helpful to her and Justin was able to leave this equipment with her to borrow and determine how beneficial it would be to her.
After borrowing the Merlin desktop video magnifier, one became available through the INDATA Project's Equipment Reutilization program. INDATA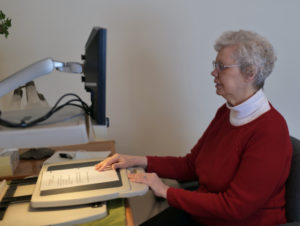 operates an equipment reutilization program in which we accept CCTVs, video magnifiers and other assistive technology devices. These items are sanitized, repaired and given to individuals with disabilities in Indiana for free. Justin let Candy know that a Merlin had been donated to the library and was available and assisted Candy in filing out an application. Justin was then able to bring the donated one out to her home and pick up the one that she had borrowed from the library.
Candy was thrilled to receive the donated one and is able to read all of her documents and her recipes so she can continue to bake and cook for her family, which is her passion. Candy said, "The magnifier opened up a whole new world for me. I am so thrilled to have this machine. It has been such a blessing."