Over the years we've written about several fidgets for children and adults alike.  If you're looking for a fun, discreet fidget to relieve stress and/or anxiety, check out Speks!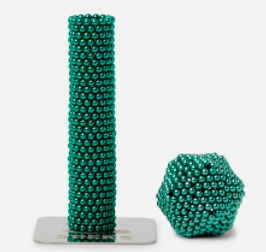 According to its website, Speks magnetic balls are "the most fun stress-relief desk toy around."  They're like magnetic putty but without the mess.  Due to their 2.5mm size and low flux rating, they are fun to mold into different shapes.  Since they're so small, you can keep a set on your desk to fidget with at work, or carry them around with you to fidget anywhere you go!
Here is the developer's mission:
"We know a few things to be true; adulthood shouldn't be boring, magnets are kind of magical, and we all deserve a little fun. So we created the world's best desk toy with a mission to bring a dose of fun to every desk in the world (hey, we dream big.)"
The magnetic balls are made out of the rare earth element, neodymium, along with some iron and boron.  They are made by being shaped into 2.5mm spheres, then they're coated with a metal plating or polymer paint, and finally, they go through the magnetizer.  "It's cool: one minute they're just ball bearings and the next they're magnets. Magic!"
Overview of Speks:
The original mashable, smashable, buildable, magnetic desk toy
2.5mm magnetic spheres that act like magnetic putty, making it fun and easy to mold into various shapes
Made from the rare earth element, neodymium, along with some iron and boron
Coating: polymer paint or electroplated metal
For individuals 14 years of age and up
Great desk toy that can also be carried around to fidget with anywhere you go!
Available in 21 different single color or 19 multicolor options
Rust and tarnish resistant
Click here to learn more about Speks magnetic balls!