Apple unveiled its first ever wearable back in September at its iPhone 6 event, and on Monday, the Cupertino company finally revealed more details on the highly-anticipated Apple Watch, including pricing and the release date!  What else does the smartwatch have to offer and how can you operate it?  Let's spring forward with more details!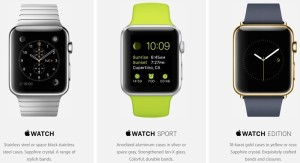 6 Apple Watch Controls
Like many of Apple's mobile devices, we know that the Apple Watch has only two buttons: a digital crown that can be pressed, and a traditional hardware button beneath it.  Rumor has it, though, when you combine multiple and long presses, there'll be a lot you can do with it.
1. Scroll and zoom
Spin the digital crown to scroll through lists or zoom in or out of the home screen, maps, photos, and more.  (This is a great feature as your fingers won't obscure the screen while you do!)
2. Home screen
Single click the digital crown and get taken to the Home Screen.  (This is comparable to the Home button on the iPad or iPhone.)
3. Siri
Since the introduction of Siri a few years ago, she has arguably made Apple products more accessible.  You can access Siri two ways on the Apple Watch.  The first is by pressing and holding down the digital crown to activate.  Or you can also raise your wrist and say, "Hey, Siri!" (Pretty nifty, huh?)  This last feature could be great for individuals with mobility impairments who struggle pushing the digital crown.
4. Time switch
The time switch feature is comparable to the multitasking option on an iPad or iPhone.  To access, double click the digital crown to switch between your watch face and the last app you used.
5. Accessibility
To retrieve Accessibility options, triple click the digital crown. Please note: Accessibility features on the watch are only rumors right now, but according to 9to5Mac, here are some of the rumored features:
The Apple Watch will have a VoiceOver feature that can speak text that is displayed on the screen.  Users will be able to scroll through text to be spoken using two fingers.  VoiceOver can be enabled either by merely raising a wrist or double-tapping the display.
Users will be able to zoom: double tap with two fingers to zoom, use two fingers to pan around, and double tap while dragging to adjust the zoom.
There will also be accessibility settings to reduce motion, control stereo audio balance, reduce transparency, switch to grayscale mode, disable system animations, and enable bold text.
6. Apple Pay
Apple Pay has a lot of potential for individuals with disabilities.  (To learn more, check out my blog on Apple Pay.)  To access the NFC-based credit and debit service, double click the bottom button.  Once it's authorized on your iPhone 5 (or newer device), it'll work as long as your watch stays in contact with your skin.
Pricing and Pre-ordering Details for Apple Watch
You can pre-order your Apple Watch on Friday, April 10th and have it shipped as soon as April 24th!  The pricing is a little complicated but ranges between $349-$10,000.  Here is a handy resource to help explain sizing, pricing and more!