Our very own director, Brian Norton, introduced the Claro ScanPen app in a Tech Tip earlier this week.  It is an app that allows you to have printed text spoken aloud.  This app can be useful for students with dyslexia, low vision, and much more.
Claro ScanPen allows users to take a photo of their printed text document, letter, or test paper.  Then, users can select the desired text with their finger or stylus, and have the text read back to them!  Unlike many other text-to-speech tools, this one provides truly instantaneous results.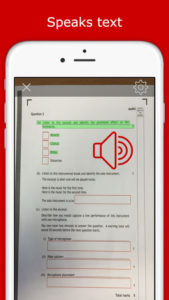 One of the unique features of this app is that it doesn't require any internet connection.  This makes it an ideal tool for students with dyslexia, for example, who are taking a test.  In addition to reading texts during an exam, it can also quickly convert:
Class handout materials
Printed presentations
Instructions
Books
And more!
The app utilizes the latest premium Optical Character Recognition (OCR) technology to instantly convert a picture into text.  It uses the iOS VoiceOver system to have the text read aloud.  It fully supports text in the following languages:
English
Danish
Dutch
French
German
Italian
Norwegian
Portuguese
Spanish
Swedish
Overview of Claro ScanPen:
Available for both iOS and Android devices
Instantly reads printed text aloud
Does not require any internet connection to function
Customizable voice and speaking settings
Additional voices available via in-app purchases (∼$1.99)
Explore using the Apple iOS Guided Access feature to lock the iOS device into a single app, for more controlled and secure usage
Minimum camera spec: 2MP