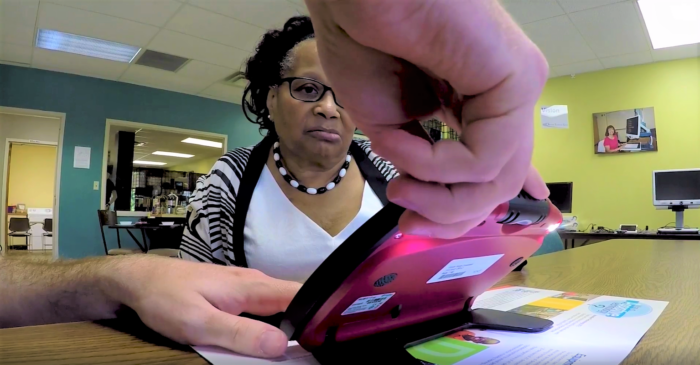 Libraries have played a vital role in Rebecca Ramsey's life. She got her first library card when she was just 3 years old, growing up to become an avid reader and writer. Unfortunately, with age came physical challenges. Glaucoma and eye surgeries robbed Rebecca of her independence. But a trip to the Indiana State Library turned her luck around. When she went there in 2017 to attend the Indiana Vision Expo, she stopped by the Easterseals Crossroads booth and learned about the INDATA Project's Equipment Lending Library.
To help her read and write with ease, former Demo & Lending Specialist Justin Amber hooked Rebecca up with a demonstration and 30-day trial of the handheld Ruby HD Video Magnifier from the library.
"When I first showed Rebecca the screen magnifier, I saw her whole world open up again," Amber said.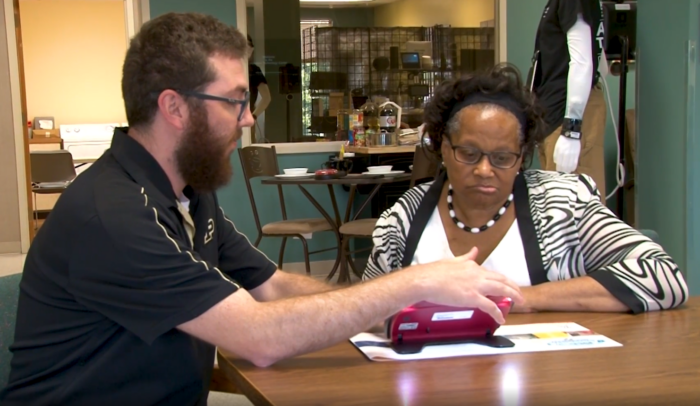 "It showed me that someone actually cared about the fact that I was sitting in the house depressed because I couldn't do the things I would normally do," Rebecca said. "I was a reader, I was a writer. I've enjoyed doing those things I couldn't do without this help."
Rebecca marvels at the lending library the same way she did at her local library when she was a little girl. Being able to read her bible or write letters to loved ones has given her a new lease on life.
This is just one of the many happy endings to come out of INDATA's lending library.
A Preview of the Library's Variety
With more than 2,500 items, INDATA's library is the largest collection of assistive technology in the state. But it's not like the library you visited after school as a kid in the sense that you can't get the clearest sense of what it has by just wandering in and roaming up and down aisles. The assistive technology lab offers the best preview, as it has stations set up with devices fit for a work, school or home environment.
One of the first devices you see when you enter the lab is the Obi, a robotic feeding device for people with upper extremity impairment. Like most items you'd find in any library's collection, Obi has an inspiring story behind it, coming out of Co-Founder Jon Dekar's experience watching his grandfather struggle to eat and then starting with a prototype made out of wood, rubber bands and Legos, among other basic materials.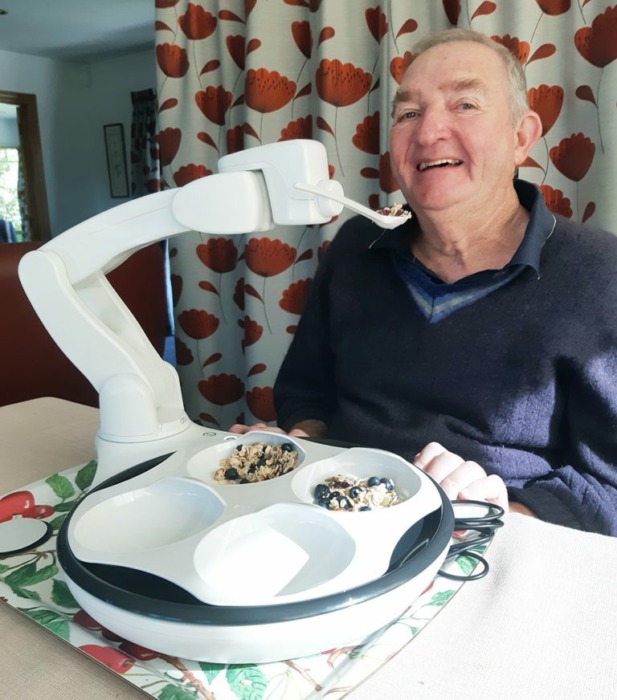 Those who browse the library will be stunned by the vast variety of items for all ages like the Obi. Online, visitors can search through more than 40 categories of equipment ranging from ramps, scooters, phones and tablets to adapted children's toys, computers, hospital beds, hearing aids, you name it.
"Just like you would go to the library to check out a book, you can check out this equipment," said Brian Norton, director of assistive technology at Easterseals Crossroads. "Lots of folks with disabilities don't have a lot of financial resources, and these devices aren't easy to come by. You don't just run out to the corner store to pick them up. So, what's great about our library is that you can just simply let us know (what item you want to try), we can ship it to you or you can come to us and pick it up. You can then borrow it for 30 days free of charge to try it out and see if it's really going to work for you before you invest the money in purchasing it on your own."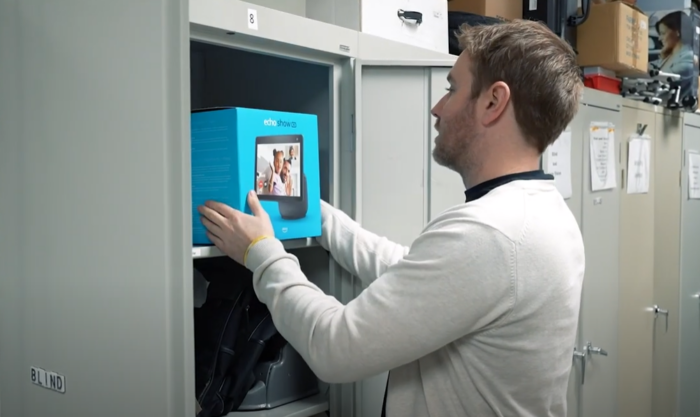 If someone does want to buy a piece of assistive technology they've tried but needs help paying for it, INDATA can lend a hand through its Alternative Financing Program.
Visitors of Various Backgrounds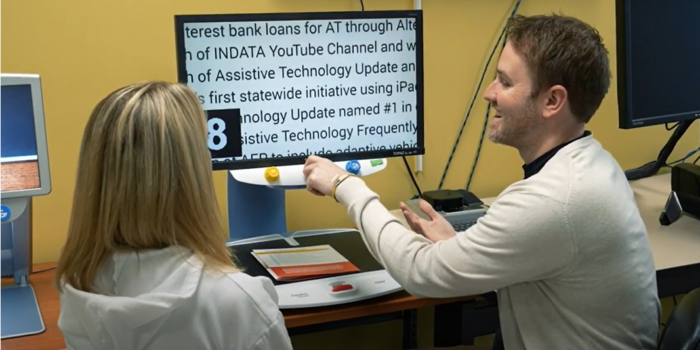 People who utilize the library aren't just those with disabilities. Among others, INDATA Program Manager Tracy Castillo has helped caregivers, parents, teachers and therapists find the right technology for their family, friends, students, patients, etc.
She recalled a speech-language pathologist recently reaching out to ask about a communication device for one of her patients as well as a father trying to find assistive technology for his son.
"He was so sweet," Castillo said. "It's inspiring to see how much technology can impact people's lives, and it's really neat to be part of something bigger."
In addition to the library, INDATA offers to-your-door device demonstrations throughout Indiana. Free demonstrations are scheduled so that each participant spends up to 20 minutes with an assistive technology professional to learn the basic features of the assistive device.
Those interested in potentially using the library to find a device for themselves or someone they know can go to the INDATA website at eastersealstech.com and fill out an application to sign up for an account and browse through all of the items.