It seems like we just can't get enough from the world of fidgets!  After all, they're tools that can benefit so many people.  Developers are getting more and more creative as each new innovative product launches.  A few weeks ago, I introduced the Fidget Cube, which is an all-in-one fidget product.  The Think Ink Pen is yet another all-in-one option and is one of the most recent additions to the fidgeting market.
Think Ink is the "first titanium, steel pen that bends, spins, and transforms into various creative, fidgety features."  In other words, it is a pen with an array of built-in fidgets which allow you to discreetly fidget whenever, wherever!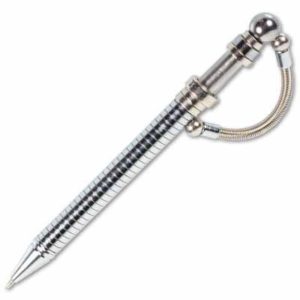 What can you do with the Think Ink Pen?
Well, in addition to writing with the Think Ink Pen, you can also:
Flex: the stainless steel flexo shaft features a spring-like resistance which allows you to bend the pen.
Spin: the "invisible force of rare-earth magnets creates a floating, silent spinner that you can push and pull for additional fidget fun!"
Slide: the silky-smooth rotation of the carbon-steel sphere satisfies one's urge to click his or her pen.
Twist: the unique detachable flexo clip doubles as a standalone fidget tool with "rare earth magnets that allow you to easily detach and reconnect the clip."
The Think Ink Pen is available for purchase here for $39.95.  In addition to the pen, they also offer a few more fidgets:
Fidget Slider 3-Pack:

3 fidgets that slide on and secure to most pencils and disposable pens.

Thinkwell Desk Toy:

This desk toy fidget features magnetic rings holding a small, large steel ball, which chase each other around at "extreme speeds."
Click here to learn more about the Think Ink Pen!
Wanna read about more fidgets?  Check out our posts on different types of fidgets!